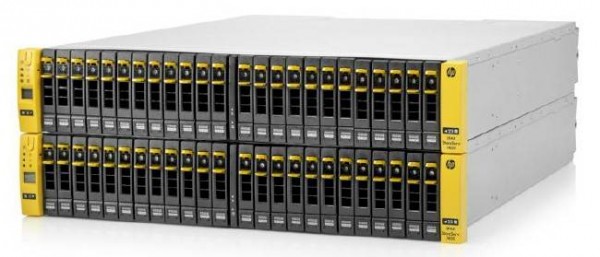 HP is expanding its storage portfolio to make it easier for companies to manage and make sense of the growing glut of corporate information.
According to HP, the new systems tout technologies that help IT administrators manage disparate storage systems, analyse data quickly and speed up backup operations.
David Scott, general manager and senior vice president of HP's storage division, noted on Monday that legacy storage vendors have been slow to react to developments in cloud computing, big data and virtualisation.
"If you look at the environment and how the vendors' portfolios have developed over time, you find a world where you have a tremendous number of different architectures that provide different tiers and silos of storage," Scott said. "Obviously if you have different architectures, you end up with problems like complexity, inefficiency and increased cost."
"If you take EMC as one example, they have five different architectures associated with primary storage, three associated with information retention and two associated with information protection and backup. This is what we call tremendous levels of fragmented storage complexity."
HP's expanded portfolio, targeted at medium-sized businesses, provides a single storage architecture for data storage, backup and processing to derive useful business insights.
Specifically, the HP 3Par StoreServ 7000 storage server supports both block and file data services, with an all-SSD option capable of running over 320,000 input/output operations per second.
Augmenting the new storage server is HP StoreAll Express Query, a technology born out of HP's research lab that supposedly allows businesses to conduct search queries 100,000 times faster than previous file system search methods using a metadata database. It is part of HP's new StoreAll object and file archive system.
Additionally, HP StoreAll can be integrated with Autonomy's Intelligent Data Operating Layer, the engine that powers the analytics and information management software that HP acquired for US$10.3 billion. However, HP was recently forced to shave US$8.8 billion off Autonomy's value as a result of the latter's accounting improprieties.
HP StoreOnce 2000 and 4000 Backup are the backup pieces in the expanded portfolio. Both appliances support HP StoreOnce Catalyst backup and recovery software, and speed up backup operations by up to three times at a 35 percent lower cost compared with rival systems.
With a growth of 38 percent during the last financial year, HP's converged storage portfolio is gaining ground against established rivals EMC, IBM and NetApp. That said, because the storage business is a high-stakes game that generates lucrative revenues in software, services and cloud backup dollars, the incumbent players will not sit still.