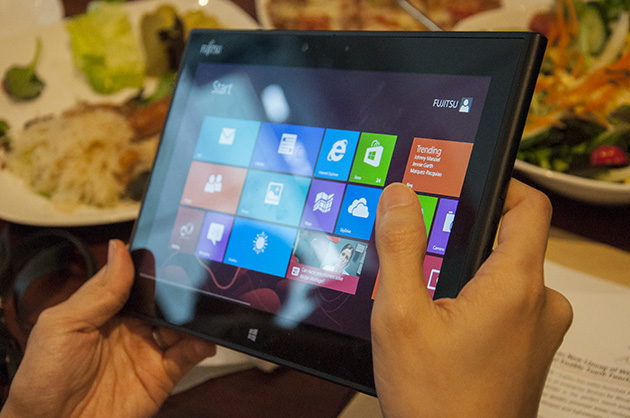 Fujitsu has been making Windows-based tablets since the days of Windows XP, so they know a thing or two about them. But the new Stylistic QH582 is unlike any tablet you've ever seen from the Japanese company.
The slate is slim (9.9mm) and lightweight (574g), with a textured back that gives it a bit of grip. Although the feeling of holding it is still a bit on the "cheap" side, the texture and solid heft of the device makes it feel less so than if it had been plain shiny plastic.
The 10.1-inch screen is strengthened to resist scratches and packs in an IPS panel. Viewing angles and colours looked good, although the promised "HD" resolution isn't really up to scratch. I could still see jagged edges around graphics and fonts on the 1,366 x 768 display.
The sleek hardware design belies its hardiness. The QH582 can be immersed in water for up to 30 minutes, and is resistant to dust.
Interestingly, the tablet runs on an Intel Atom processor with 2GB of RAM and has full Windows 8 instead of Windows RT. This means that all existing Windows applications would run on the tablet, as long as the Atom chip can handle it, of course. It stuttered quite a bit when I tried playing with a handful of apps, and became completely unusable in a finger painting app.
With 64 GB of storage (expandable via microSD), a rated battery life of 10hrs and even the option to hook it up to an external DVD drive, this is a full-featured tablet for the consumer. But business customers aren't neglected, with features such as BIOS lock and Trusted Platform Module (TPM) support.
The downside, of course, is the price. Final pricing isn't available yet, but Fujitsu executives said it will be "one thousand plus" dollars for just the tablet and a docking stand. Buyers will have to purchase a keyboard separately if they want to get any work done.
Fujitsu also unveiled several other tablets, including the top-of-the-line Lifebook T902.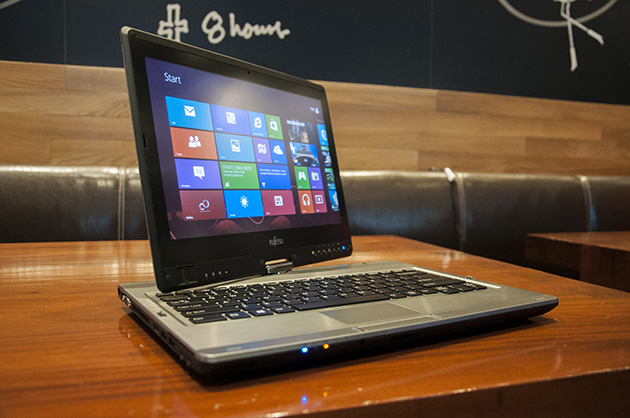 Looking like it came straight out of the year 2001, the T902 is a 13.3-inch (1,440 x 900) convertible tablet PC with the familiar swivelling hinge OEMs used to love before the iPad. But there is nothing "2001" about its specs.
Its HD IPS display is brilliant and retains its colour no matter how far to the side of the screen I move. With a dual digitiser and multitouch support, you can juggle between taking notes and slicing fruits with ease.
The swivelling hinge feels sturdy and turns smoothly without any rattling. The trackpad is a little on the small side, but the keyboard feels good.
The T902 is packed with full business features such as Inel vPro technology, SmartCard reader, and optional TPM for enhanced mobile security, to name a few. There's even an option for built-in LTE.
A modular bay standard in all high-end Fujitsu laptops can be fitted with supported accessories ranging from a second HDD drive to a Blu-ray drive, or simply left empty to lighten the tablet's weight.
All these features won't cheap. Final pricing for the T902 is not yet available, but it is expected to cost in the high end of S$2,000 to more than S$3,000.