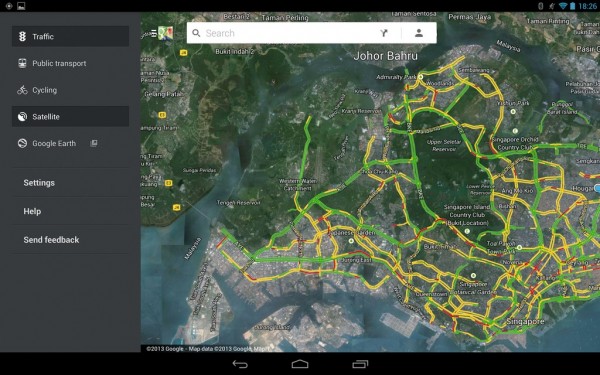 If you haven't got your Google Maps updated on your Android phone or tablet automatically in the past few hours, try to get hold of the new app.
This is one major update – from 6.x to 7.0 – that brings along not just an improved, cleaner interface but also new features such as re-routing to avoid heavy traffic conditions.

The interface now looks and feels more in line with the rest of the Holo interface common on recent Android operating systems.
At the same time, you get more integrated access to information, with a page of each place showing its website, opening hours, rating, street view and interior view, where available.
Search for Loof, a bar at Odean Towers in Singapore, and you get that 360-degree view inside, along with all the other useful location information.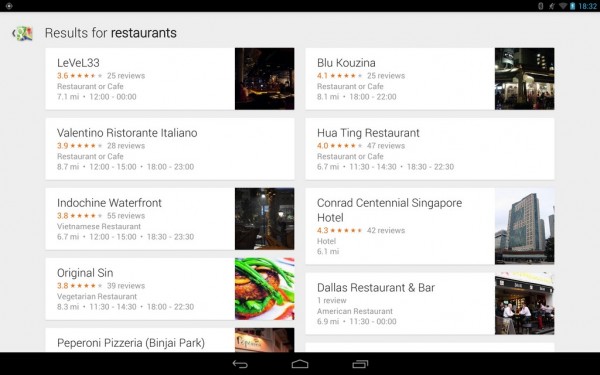 The search is also made easier because tapping on the search bar now brings up automatically a list of cafes, bars, restaurants and other places of interest nearby, giving you instant ideas of where to go next.
For drivers, Google has previously touted a smart routing feature where you can get re-routed should the original path be jammed up with, say, an accident or rush hour traffic. This is now working in the new Maps app.
We've yet to test this one out yet, but the feature sure looks interesting. It certainly brings your Android smartphone closer to what you get on standalone GPS navigation systems.
What's also interesting is a cycling feature which brings up the various cycling paths that you can head to. Popular places in Singapore like the new paths around Sengkang and Punggol are on the map.
The smartphone version is a little different from the tablet version, when it comes to search. Large "cards" of, say, locations to eat and drink come up, unlike the smaller icons on the tablet, where Google seems more interested in packing more information onboard.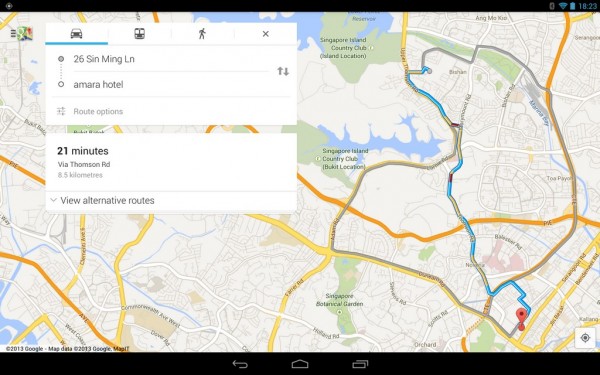 The update is not all perfect, of course. Offline maps are supported in a rather strange way, different from before. Now, you have to type in "OK Maps" in the search bar to cache the part of the map on your screen.
Is Google making it hard to go offline with your maps? Looks like it, though it's good the company hasn't taken out that feature altogether, because you do need it if you're driving to a place where there is no cellphone reception.
Google has said that it is rolling out the update to various devices "gradually", but if your phone or tablet doesn't let you update to the latest 7.0 version, just do one of the following:
1. Access the Google Maps app from the Play store on your PC (link here), and "push" the app to your Android device.
2. If this doesn't work – say, if your device is greyed out as an option – download the APK file from the Android Police website and install it manually.
We took option 2, because neither our Nexus 10 tablet nor HTC Butterfly S would update on their own, despite several uninstalls to force issues. As for Apple devices, Google has only said that the update will be "available soon" in the App Store.
Let us know what you think of the new Google Maps in the comments here!