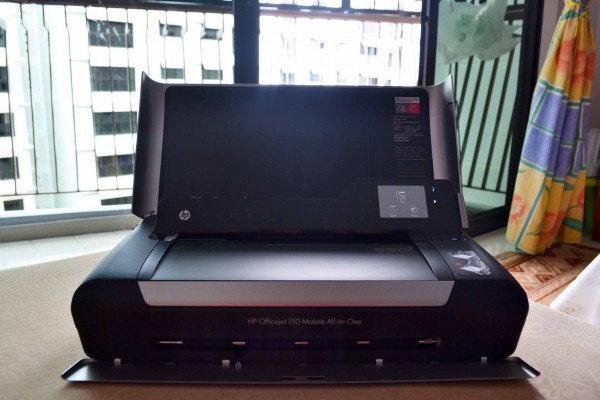 HP has touted that its Officejet 150 is the world's first all-in-one inkjet mobile printer. Geek Girl gets her hands on a unit, priced at a hefty S$599, to find out if the mobile workhorse is worth what you're paying for.
Appearance
The Officejet 150 indeed lives up to its name as a mobile printer. Weighing in at 3.1kg with its battery, the printer is by no means heavy and can be easily toted around.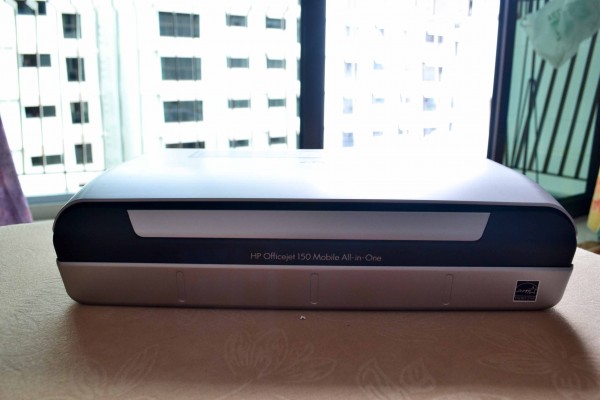 The HP Officejet 150 resembles a box with all its trays closed.
With all the covers and trays closed, the 350 x 171 x 90 mm Officejet 150 resembles a sleek, rectangular box. The top opens up as an input tray that holds up to 50 pages, and another flap at the bottom opens to function as the output tray. A silver panel housing the 2.36-inch resistive colour touchscreen and scanner head is also lifted up when in use.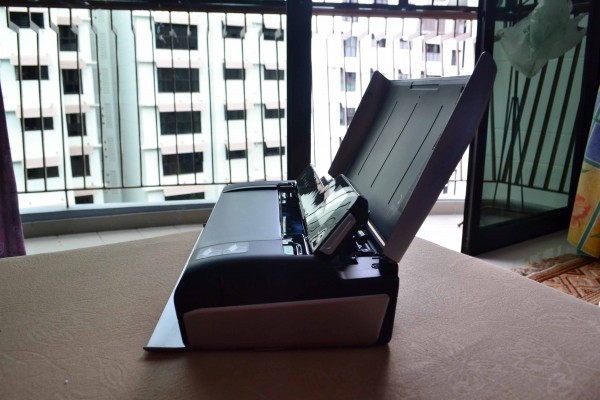 The HP Officejet 150 with all its trays and panels opened up.
Features
As an all-in-one mobile printer, the Officejet 150 enables users to scan, copy and print, either via a connected USB cable or a wireless Bluetooth connection.
Setting up the printer requires users to pair the printer with a laptop, Windows Phone or Blackberry. Once paired, the printer works like a USB-connected printer. Jobs are dispatched via the laptop or mobile device and printed out.
Users are able to choose to scan documents in either JPEG or PDF formats, and can save each file on a memory card, USB stick or a paired computer.
The Officejet 150 also comes with a USB 2.0 port, a PictBridge port as well as an SD card slot. Like many conventional inkjet printers, the printer requires one black cartridge and one cyan/magenta/yellow cartridge.
Performance
Scanning speeds leave much to be desired, unfortunately. When I tried scanning a full-colour photo, the printer took about 47 seconds per scan. Copying speeds are approximately the same.
In addition, the mobile printer's scanner tray only allows single-sheet scanning and copying, which can be a hassle if the document you want to scan or copy is more than several pages long. Double-sided scanning and copying are also not available on the Officejet 150, again proving to be a potential inconvenience.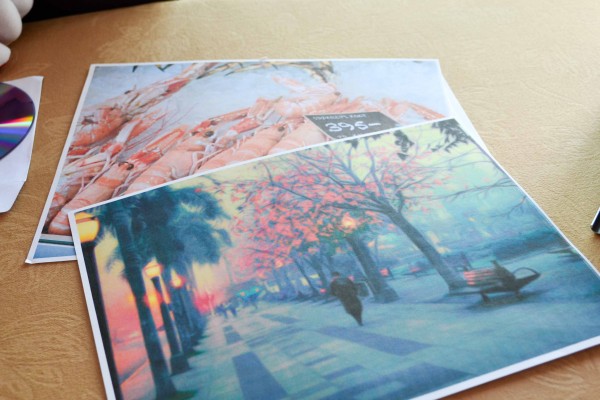 Print quality is decent, on par with standard inkjet printers
Printing speeds for black text clocked in at approximately five pages per minute, and colour documents at about 2.5 pages per minute. While the printing speeds cannot be described as very impressive, it is rather quick for such a compact device.
The print quality is decent with minimal banding and text appears fairly sharp. Full-colour print quality is also on par with what you would expect from a standard inkjet printer and would be good enough for most business purposes.
The monthly duty cycle of the printer is 500 pages per month, but HP recommends a printing volume of 100-500 monthly. On a full charge with its rechargeable battery, the printer is purportedly able to print 500 pages, although I did not have a chance to test that out fully.
Bottomline
The Officejet 150 Mobile printer lives up to its name as a mobile printer, seeing that it is fairly light. Plus, its rectangular shape, with all its covers closed, makes it easy to carry around.
The Officejet 150, however, is not suitable as a business printer for home or small-office businesses, mostly because of its limited single-page scanning and copying capabilities and printing speeds which may become an inconvenience despite the promised all-in-one function.
I would recommend the printer for road warriors who are often on the go and require the convenience of a printer all the time. Even so, its hefty S$599 price tag may put off some potential buyers.
While HP does offer a decent mobile printer that delivers on promises, you'll have to have the cash to blow to enjoy the portability and features on offer.