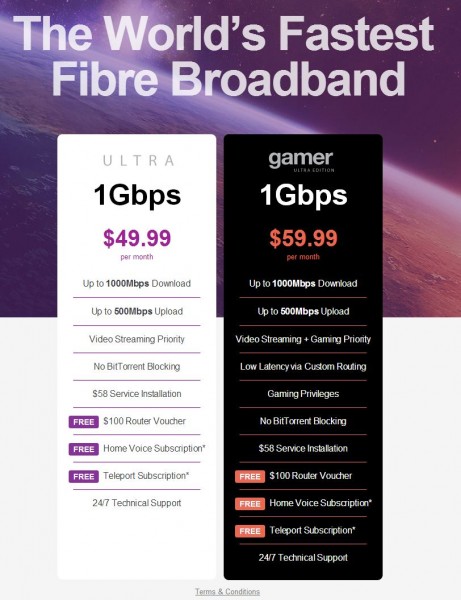 Yes, you read that right. A faster-than-you-can-use fibre broadband service providing a mind-boggling 1Gbps of bandwidth now costs just S$49.95 from MyRepublic.
Okay, there's a catch. It's only for the first 10,000 sign-ups from today, and the price for those who come later is yet to be confirmed.
But this is the first time such a service is so affordable, despite it being available for a few years now. Indeed, MyRepublic's asking price is what service providers sold 100Mbps plans at just a couple of years ago.
What can you do with all that bandwidth? Frankly, there's so much of it you really won't maximise your usage. If you are part of the 99.9 per cent of users, you probably won't "need" it.
For starters, your PC's hard disk may or may not be able to keep up with a 1Gbps download. The Gigabit Ethernet router you got may also be maxing out and probably cutting a few corners without hitting 1Gbps, unless you have a well-made one.
And it's true, 1Gbps is only the absolute top speed. There are other things that matter, such as how much lag you can get when connecting to game servers or overseas websites.
Yet, why not 1Gbps? The added bandwidth means that you will never run out of bandwidth even when you are sharing files with friends, not for the foreseeable future any way. And imagine a Full HD video taking just seconds to download.
More importantly, an affordable 1Gbps offering also opens doors to new uses in future, such as seeing a doctor remotely from home. 
For an increasingly congested Singapore, the bandwidth available to homes should convince employers that working from home is productive – staff actually got faster broadband at home.
Good news is, MyRepublic is spoiling the market by crediting S$200 to customers who dump their existing contracts to go with it. Short of M1's S$39-a-month plan for 100Mbps broadband two years ago, this is the most aggressive price competition yet for Singapore's fibre broadband services.
Other goodies that MyRepublic is throwing in includes its Teleport service that lets you watch overseas TV programmes online, as well as a S$100 voucher to buy an Asus router.
You'll have to pay a one-time fee of S$58 for installation and the monthly subscription doesn't come with a fixed IP address, useful to those who run servers at home.
The next move now from the other major players? It's likely they will try to match the speeds to keep customers, as they have done previously. That's a good thing, as far as users are concerned.
Of course, price competition is one thing; quality of service is another.
With more users soon on such fast links, the hope is that telecom operators will work together to make better use of the national network that is already changing the way people work and play online (here's how).