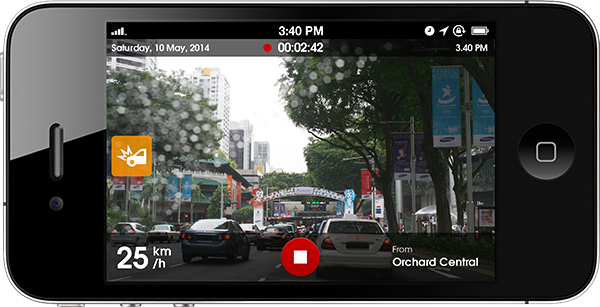 Get into a taxi these days and you'll likely see an in-car camera recording everything that happens in front of the car.
The popularity of in-car cameras have surged in recent years, and in response to a marked increase in policyholders submitting their claims together with video evidence, local insurer NTUC Income has launched a free mobile app on Android and iOS that lets its customers turn their smartphones into in-car cameras.
Videos recorded through the Orange Eye app can be submitted directly to NTUC Income when making insurance claims without having to transfer files back and forth other devices.
The app also includes an "Accident Toolkit" function, bundling in features such as an "instant call" button to activate NTUC Income's Orange Force accident response team as well as a "message" button to send a pre-composed SMS together with map location to your chosen emergency contact.
The company also expects the app to help reduce insurance fraud, which, according to the General Insurance Association of Singapore, costs the motor insurance industry approximately S$140 million each year.
To encourage the use of Orange Eye, NTUC Income will offer its motor policyholders (excluding fleet and motor trade policyholders) a $$100 discount on their insurance premiums when they submit useful video evidence that helps settle a claim, regardless of which party is liable.
Peh Chee Keong, Vice President, Motor Insurance, NTUC Income, said, "In most cases, motorists submit video evidence to prove that they were not at fault. We would like to encourage our policyholders to submit evidence even when they are at fault or when they are unsure about their culpability. That will help us settle claims, especially third-party claims, fairly and more promptly."
Correction (2 June, 2014, 6.50pm): a previous version of this story incorrectly stated that insurance fraud costs Singapore's motor insurance industry approximately S$40 million each year. The correct figure should be S$140 million.