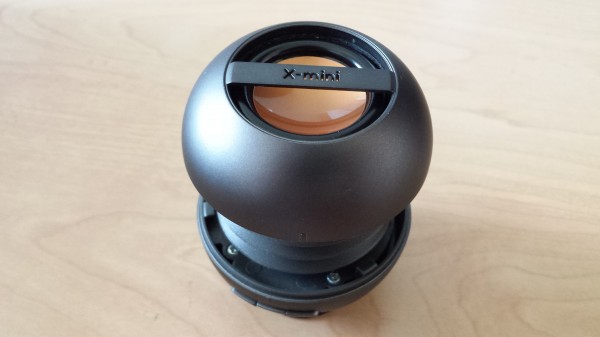 Singapore-based XMI's range of portable speakers are well-known for their full-bodied sound despite their tiny footprint. Its latest X-mini Kai2 hopes to build on those same qualities, with additional features like a microphone and Bluetooth connectivity.
The Kai2's ceramic driver claims to offer improved sound quality. Indeed, its treble was crisp and the bass tight for a device of its class. Amazingly, there was no rattling and distortion, even with the volume set to the maximum. 
The Kai2's neutral sound profile emphasised the mid-range tones and highs over the lows. I wished the lows were a little stronger though, given that bass performance was one of the speaker's selling points.
Stacked against my X-mini 2, the Kai2 only sounded slightly better in terms of bass and clarity. That's hardly surprising, as the speaker's small frame limited the size of its drivers. Daisy-chain a couple of them and they would sound louder and better.
The Kai2's audio quality worsened when playing tunes from notebook that was connected to the speaker via Bluetooth. Its maximum volume was reduced and much of the bass in the songs were lost.
The speaker also comes with a noise-cancelling microphone that's handy for making video calls. During my tests, the calls sounded clear to the receiving party even with background noise.
As a wireless Bluetooth audio receiver, the Kai2 also lets you hook up your non-wireless speakers and stream music wirelessly from a Bluetooth-enabled device. The set-up process was painless. I plugged my speakers to the Kai2's line-in port and paired them with my phone via Bluetooth. Moments later, I was streaming songs from YouTube.
However, there was a split-second lag in audio delivery. Also, the music played only on my left speaker. Instead of passing the sound through to my right speaker, the Kai2 played it on its own.
Given its quirks, Bluetooth audio transmission on the Kai2 seems like a novelty. It would be handy for playing occasional tunes from a phone, but those shopping for a wireless speaker system ought to keep looking.
The Kai2 has a weighted base that prevents the speaker from toppling over when playing loud music. A rubber stand supplements the base by absorbing the impact from its movement.
Both features worked perfectly in keeping the speakers in place, though the suction cups that were supposed to hold the stand onto a surface do not always work.
The stand doubles as a dust cover for its exposed top, and was fastened onto the speakers with a string that holds it in place. Kudos to Xmi for putting much thought into something as simple as a dust cover.
At S$79.90, it costs more than most capsule speakers, but you would be paying for its quality, especially if you enjoy its neutral sound.
That said, given the limitations of the Kai2's Bluetooth functionalities, I am inclined to recommend its wired Max 2 (S$63.90) sibling, which is cheaper, comes in a pair and offers a wider frequency range.