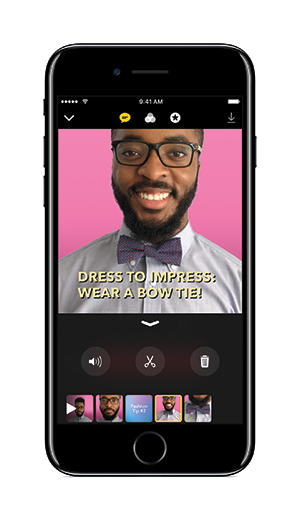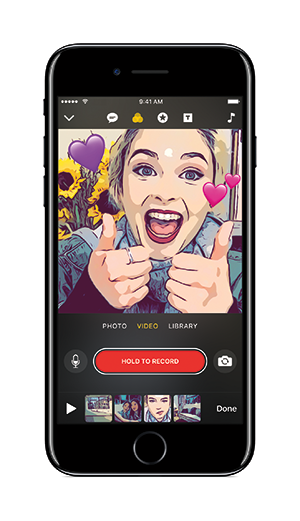 Apple users got an easy way to make sharable videos last month when the Clips app was unveiled. Out on the iPad, iPhone and iPod Touch, it is as easy as you get to making a fun and fuss-free video. 
Once a video is finished, one click lets you share it on Vimeo, YouTube, Facebook and other social media and messaging apps.
To begin, start by shooting video clips. If you like, add existing stills and videos from your photo album. Recording time isn't restricted which means you can record for as long as you like. But for sharing purposes, a 30-second to 1-minute video would be the best.
Live Titles (a text-bubble-like icon on the top of the screen) is an auto-caption feature which shows off Apple's artificial intelligence work. Auto-captioning can be added to any video frame.
Simply select Live Titles, then speak into the microphone as you're recording a clip. It turns what you've spoken into on-screen text that pops up to time perfectly with the video sequence. It works brilliantly.
Apple says it can do this for 36 different languages. Remember to mute the recording to only show the caption. If you do not mute it, it becomes a voice caption. However, note that an Internet connection is needed for the voice-to-text transcription to work.
There are 11 on-screen controls for editing, adding music, captioning and sharing options. To edit, use your finger to drag and drop frames into the sequence. Under a star-like icon, there are ready-made stickers like Hello, The End and emojis. Select any to add them to any clip in the video sequence.
Moving the stickers around is easy – just use the finger to drag and drop for optimal placement. You can spice up the clips by adding filters like comic-book, noir, ink outlines and others.
To complete the video, you can add catchy background music to the completed video. Clips come with a decent selection of music grouped by mood (Chill, Sentimental, Playful) but you can also import from your own music library.
I must confess that I don't edit any of the videos I take. I find it too troublesome to edit them for sharing. But Clips is really easy, almost idiot proof. Admittedly, your first video may take over an hour to make. Once you know how to use it, it will take less than 10 minutes to make a short video going for 30 seconds or less.
Why did Apple develop Clips? You'll remember that it has deep movie-making software technology with its products iMovie and Final Cut Pro. Clips is taking the key elements of making videos and packaging it into an app that's easy to use by everyone. It is another feature to make the iPhones, iPad and iPod more useful to their customers and ensure "stickiness".
Do note that Clips requires iOS 10.3 or later which means it can run on models up to the iPhone 5. It won't eat up storage as it is a slim 49MB download. I tested mine on the iPhone 7 Plus. Happily, I didn't have to sign into the iTunes accounts to get started.
I like Clips because it is free and easy to use. It's a nice tool for making Facebook or social-friendly videos with surprisingly effective captions. It will be among my journo tools when I next head out to cover events.
Perhaps the biggest drawback to Clips is that it's another app you have to open before sharing your fun video. Another restriction is that videos can only be square. You will not be able to get widescreen footage filling the whole screen.
Grace Chng is a veteran tech writer and has been following Apple for more than two decades.