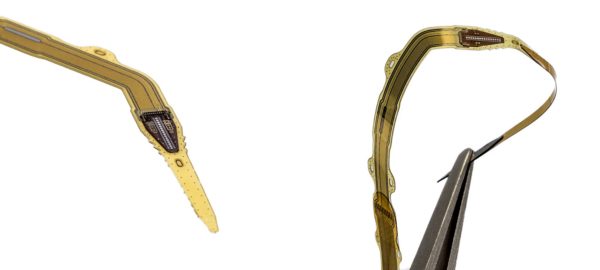 A new chip that can be implanted in a small bundle of nerves may one day bring back the sense of touch to users of prosthetic arms and hands.
The ultrathin chip, at 35 nanometres, comes with 64 or 128 electrodes that allow for fine-grained stimulation and recording. This enables the prosthetic arm or hand to send haptic feedback signals back to the brain, providing the sensation of touch.
The breakthrough chip, unveiled last week by the European research and innovation outfit Imec in Belgium, is the first one to have such a high electrode density required to deliver the.
It has now made a prototype of the chip with biocompatible, hermetic and flexible packaging, which enables it to be implanted under the skin. It could still be years away before a manufacturer perfects the final product from this, but the development brings promise for users of prosthetic arms.
Currently, artificial arms work by reading out signals from a person's muscles or peripheral nerves to control motors in the prosthesis. They then control the ability to grasp or manipulate objects, though without the sense of touch or fine motor control.
Imec introduces world's first thin-silicon implantable chip for high-precision haptic prosthetics from imec on Vimeo.
What the new chip and its implanted interface offer is essentially the ability to send precise electrical patterns to the person's nerves. This increased amount of information makes the haptic feedback possible.
Through a needle attached to the chip, the package can be inserted and attached inside a nerve bundle, further increasing the precision of reading and stimulation compared to current technology which has substantially fewer electrodes and is wrapped around the nerve bundle.
The chip is an important milestone for future-generation haptic prosthetics, said Dries Braeken, R&D manager and project manager of the prototype programme at Imec.
"With the completion of this prototype and the first phase of the project, we look forward to the next phase where we will make the prototype ready for long-term implanted testing," he added.
The work was sponsored by the Defense Advanced Research Projects Agency's (DARPA) Biological Technologies Office in the United States.