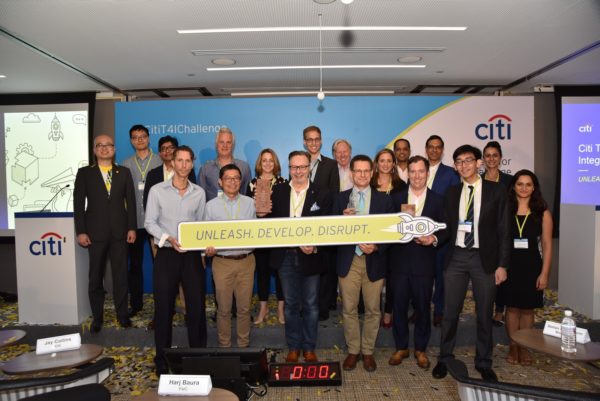 It isn't often that a startup on culture and ethics gets to pitch. But that is exactly what Arclife did at the Citi Tech for Integrity Challenge (T4I) last week.
The two-year-old Australian startup provides ethics training in to organisations. For each client, its team of consultants including journalists undertake research and interview executives to identify their dilemmas and then craft the stories and communications into online learning solutions.
It also provides training in corporate governance, workplace behaviour and work, health and safety issues.
It is developing a mobile app called Aquila which will deliver interactive mobile learning and facilitate global sharing of best ethics practices.
Arclife was one of 17 fintech startups which pitched their ideas in security, identity management, big data and analytics in T4I Demo Day on June 9.
It was among 103 finalists representing 25 countries vying for awards at six Demo Days throughout the world, including Singapore and Dublin.
The awards for the Challenge held here went to:
T4I award: iProov from London. The iProov Verifier solution secures online authentication using face matching, uniquely protected from replicas and replays with patented One Time Biometric
Peer Choice award: iProov Verifier and identitii from Sydney. identitii helps banks share information over existing financial messaging systems like Swift to improve financial crime compliance.
Audience Choice Award – Sqreem Technologies & Synechron, Singapore
Sqreem fuses structured and unstructured data to provide an early warning system for anomalous behavior that may indicate financial crime.
Award recipients will receive a total of US$5.5 million in cash and prizes. Citi said its business partners in this event such as Mastercard and IBM also gave out their own awards to participants that may not have won at the various Demo Days. The total amount each award recipient received was not disclosed.
During a panel discussion held at the Demo Day, Sopnendu Mohanty of the Monetary Authority of Singapore (MAS) said that so far, fintech startups have not been successful beyond the countries they operate in.
Mohanty, MAS' chief fintech officer, said that only five per cent of fintechs have gone beyond domestic markets, reflecting the problems in the lack of regulatory alignment and different standards.
To help fintechs do this, the MAS became the fast regulator to partner with the World Bank to build an Asean financial innovation network to help financial institutions, fintech startups and regulators address issues of connectivity, local compliance and cross border compatibility.
Under this collaboration which was unveiled earlier this year, a "sandbox" will be set up to offer cloud-based testing to financial firms.
Banks and fintechs will be able to test, develop and tweak potential digital finance services. Through this process, the services can be distributed in multiple jurisdictions.
Mohanty said that fintechs should focus more on infrastructure issues than on building platforms that appeal to throngs of users such as crowdfunding platforms.
"We want to see a deeper infrastructure change. From Singapore's perspective, we're more focused on solving the institutional side of the business – the markets, the trade finance and the real issues in insurance round modelling and pricing."
CORRECTION at 17/06/2017 2:22am: An earlier version of the article said the Demo Day event was also held in London. This is incorrect. There is no Demo Day in London. We are sorry for the error.
CLARIFICATION at 17/06/2017 2:22am: The organisers have clarified that not all of the US$5.5 million in cash and prizes have been given out. Earlier, we had reported that they were given out.