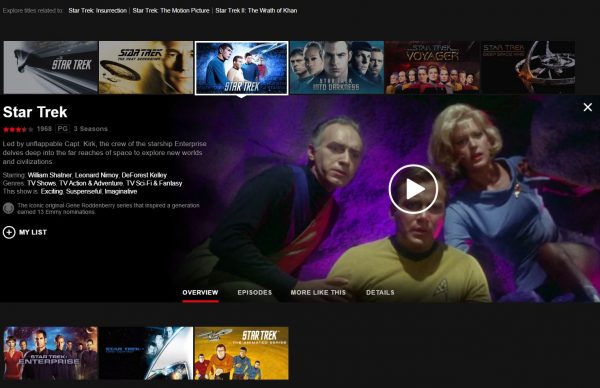 In late June or early July, I read that the entire Star Trek catalog was going to be on Netflix in Britain. I was elated. Surely it would arrive here sooner or later. While I hadn't watched every single episode of every Star Trek series, I was without a doubt, a full-fledged Trekkie.
True enough, within days, I noticed Netflix populating its Singapore catalog with Star Trek series. Initially, it was the Star Trek cartoon and one other (I can't remember), and then days later, the entire catalog, including the classic Star Trek, The Next Generation, Voyager, Deep Space Nine and Enterprise, made their debut.
Today, Netflix said that in addition to all existing 727 episodes (yes, you can go ahead and quit your job to binge watch all of Star Trek now), Netflix and CBS have landed a deal to stream the new Star Trek series from producers Bryan Fuller and Alex Kurtzman when it makes it debut in January 2017.
The new series will be available globally within 24 hours of its United States premiere.
Slated for US distribution on CBS's All Access service, this Netflix deal lets a global audience watch the first Star Trek series in more than a decade – the last Star Trek: Enterprise was cancelled in 2005.
The new show is not related to the upcoming Star Trek Beyond film or any of the films set in an alternate timeline (to regular Star Trek continuity) known as the Kelvin timeline.
Alex Kurtzman and Bryan Fuller are co-creators and executive producers for the new Star Trek on Netflix, which is based on Gene Roddenberry's original series. Fuller launched his career writing for Star Trek: Deep Space Nine and Star Trek: Voyager. Kurtzman is co-writer and producer of the blockbuster films Star Trek and Star Trek Into Darkness.
Netflix is available in Singapore with a basic package starting at S$10.98 a month.