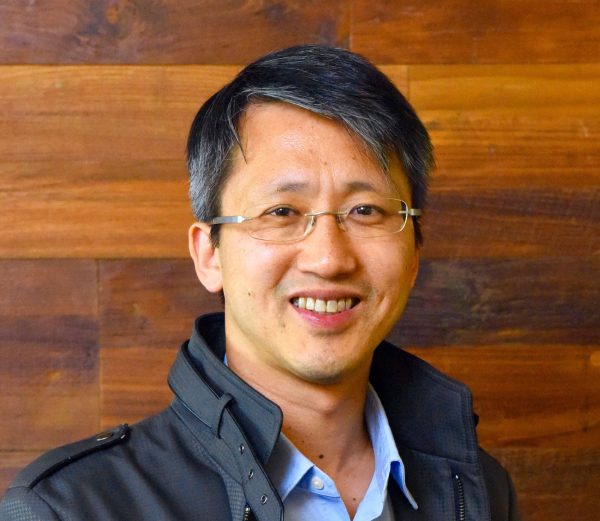 American webhosting company GoDaddy created a stir in February when it launched in Singapore and 10 other Asian destinations, threatening to shake up the market for small and medium businesses (SMBs) in the region.
It further expanded services for its target customers by deploying cloud servers in April, promising easy yet powerful online tools for companies that typically don't have large departments of in-house IT personnel.
As anyone who has done business with SMEs here know, things have to be cheap and good. Oh, and easy too, with a lot of hand-holding involved in getting customers onboard.
Can GoDaddy's much-touted SMB expertise make a difference in Singapore and the region? Despite one of the most connected places around, Singapore has many SMBs that don't even have a basic website, let alone deploy complex cloud services.
Roger Chen, GoDaddy's vice-president for Asia, tells Techgoondu this is changing, in this month's Q&A.
NOTE: The responses have been edited for brevity and house style.

Q: With your experience dealing with SMBs, can you give a sense of the countries and sectors in Asia-Pacific that have embraced cloud services of late?
A: Asia is home to one of the largest, most vibrant small business communities in the world. In markets where regional competition is high, like Singapore, where a high percentage of businesses are SMBs or startups), cloud services gives SMBs the opportunity to compete more effectively both domestically and internationally.
Cloud services also play a big role in enabling SMBs to establish a strong online presence with a professional website, effective SEO (search engine optimisation), e-mail marketing and productivity tools.
SMBs with fewer than 500 employees are already significant contributors to overall spending of cloud services, with more than 40 per cent of the worldwide total.
Globally, the industries with the largest spend on public cloud services in 2015 were discrete manufacturing (US$8.6 billion), followed by banking (US$6.8 billion), and professional services (US$6.6 billion), according to research firm IDC.
In Asia, the top three spenders were from the discrete manufacturing industry, followed by telecommunications, and professional services.
Q: What seem to be the biggest issues facing SMBs in the region, when it comes to going on the cloud?
A: One of the biggest challenges is educating small businesses about the benefits and importance of establishing a powerful online presence using cloud services.
According to a 2015 global survey conducted by Redshift Research on behalf of GoDaddy, some small businesses think that they are simply too small to warrant services like the cloud.
In fact, the survey shows that one in three SMEs do not get a website because they think they're too small to need one. We need to help change this mindset because the research shows that 59 per cent of SMBs who built a website experienced business growth.
While adoption of cloud services by SMBs has been on the rise, there still remains a certain lack of understanding and expertise knowledge around cloud adoption.
Cloud services can help small businesses because it is a Web-based platform accessible from any Internet-enabled device anytime. If the idea of cloud services technology seems confusing, SMEs can also look to collaborate with partners, such as GoDaddy to help guide them on their journey as they consider cloud services as a part of their online digital presence.
Q: In one of the most connected countries, Singapore SMBs often fall behind when it comes to tapping on the cloud or even having a website. How do you get these users connected?
A: An important first start is to choose and register a domain name for your small business. Then you can start creating a website with GoDaddy's Website Builder that features simple 'drag and drop' templates to create a site that beautifully reflects your business.
With GoDaddy's integrated tools and solutions you can add
e-mail tools such as Microsoft Office 365 Email and e-mail marketing to engage with your customers.
You can also set up an online store to sell to your products around the world and around the clock and SSL Certificates to help provide extra layers of security for your website and services.
To help SMEs along the way, GoDaddy offers customer care 24/7 in Singapore, along with detailed online support including Help FAQs and articles and tutorial videos on YouTube. All this so a small business owner can think of GoDaddy as its own IT support available when they need assistance.
Q: A lot has been said about the cloud being a necessary tool in a digital economy. How will SMBs be affected should they miss out on its benefits?
A: A couple of the biggest challenges faced by SMBs, especially micro-SMBs, are costs and attracting new customers. What I like to call Getting Found.
The use of cloud services empowers SMBs to adopt newer technologies to replace legacy technology, and maximise and stabilise their resources based on their usage and scalability.
In addition, what might be of most value to an SME is the ability to have their business and customer files available when away from their office, able to be viewed and used on a mobile device connected to the internet – to engage with customers, display how products work, or collaborate on the go.
Equally important, cloud services for SMEs can also help them get found by customers. Most people rely on the Internet when searching for new goods, services and providers, so it's critically important that SMEs have an effective online presence that enables people to easily find them.
That means having the right domain name, creating a beautiful website, having an SEO strategy, and having the tools in place to manage customer relationships.