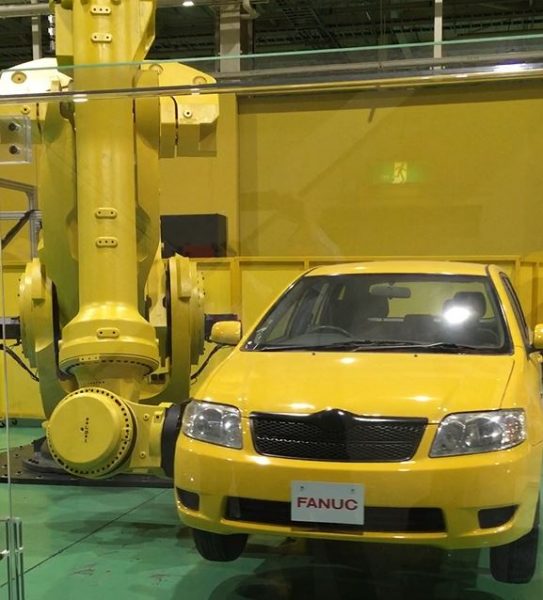 Few companies in the world give lifetime warranty for their products. Fanuc, the Japanese industrial robot maker, is among the few who does just that.
Robots made in 1972, when the company was founded, can still be repaired. Fanuc keeps an inventory of electronic components and machine parts in its warehouse for these ageing robots. If the parts were not available, Fanuc would scour the market for them, failing which, it will have them specially made.
This is a key service Fanuc intends to continue providing because it is a key factor differentiating it from its competitors, said a company spokesman. He was speaking to a group of about 70 chief information officers (CIOs) from Singapore who were on a three-day visit to Japan.
Fanuc, the world's largest maker of industrial robots, makes robotic arms used in the handling of large machine parts or for automating manufacturing processes in various industries including automotive and pharmaceutical.
Like many companies who have an ageing workforce, Fanuc is experiencing a "retirement" of expertise. Its older engineers experienced in servicing the older products are retiring. To ensure that the expertise is "kept" within Fanuc, the company captured the engineers' knowledge in a specially developed database of maintenance and repair processes.
The lifetime warranty and Fanuc's aim to continue with it impressed the Singapore CIOs. Alvin Ong, CIO of the Alexander Health System pointed out that lifetime warranty is rare in the IT world.
"Fanuc's commitment to providing lifetime availability of spare parts for their ageing industrial robots shows they really care about customer support," said Ong, who is also the president of the IT Management Association (ITMA). The CIOs had visited Tokyo as part of the annual CIO Workshop organised by Accenture and ITMA.
During the CIOs two-hour visit to Fanuc's sprawling 1.7 million sq m manufacturing campus Yamanashi Prefecture, about a 90-minute coach ride from Tokyo, they saw robots making robots, that is, industrial robots cutting, milling and machining steel plates into small and big robots.
The campus located on the slopes of Mount Fuji, comprises several factories which collectively can make 5,000 robots a month.
The visit was organised by Accenture and the ITMA as part of the annual CIO Workshop which began on June 28 in Singapore, immediately followed by the Japan study tour from June 29 to July 1. In its 29th year, the Workshop is aimed at raising the awareness of emerging technologies for Singapore-based CIOs.
Besides Fanuc, the CIOs also visited the IBM Research Centre in Tokyo where they met another robot called Pepper, a humanoid-like robot which can interact with people.
In a demonstration, Pepper demonstrated that it could understand English and Japanese and respond accordingly. The brains behind Pepper is IBM's artificial intelligence software called Watson.
Pepper processes the audio and visual signals like gestures and voice tones through Watson which resides in the cloud. This robot has been used in Japan mostly as an automated receptionist.
Professor Alex Siow who was with the ITMA tour said robots are no longer part of science fiction.
With artificial intelligence, robots can understand the world, said Siow who is director of the Strategic Technology Management Institute at the NUS.
"They will be like people, able to learn and experience things. They will be able to engage with people by drawing upon a wide range of data sources like images, text, video and social media," he said.
Sam Liew, Accenture Asean managing director for technology, said that robotics is an important technology with many applications in areas such as automotive technology that allow cars to parallel park themselves, nanorobots that can do surgery and unmanned aerial vehicles.
It was important for companies to understand how the technology can be used for improving business efficiency, said Liew, who led the CIO group in Japan.
However, there is fear within certain parts of society that robots may autonomously decide to dominate humankind.
Robotics specialist Professor Raffaello D'Andrea of Swiss University ETH Zurich said there is great potential in robots and autonomous vehicles but things can still go wrong.
Speaking at the opening of the CIO Workshop in Singapore, he said self-drive cars which receive software upgrades over the Internet can cause traffic jams because the software could be incompatible with the program running the traffic lights.
Companies and the government should proceed with caution, he said, adding that pilot studies must be held before any robot is released for public use.
But D'Andrea is not a naysayer. After all, he is a co-founder of robotic company Kiva Systems. E-commerce giant Amazon acquired Kiva and implemented its autonomous vehicles technology in its warehouses.
D'Andrea "doesn't think about the bad things" in his robotics research because he believes researchers, academics and governments will come up with a framework to guard against the potential negative aspects of robotics.

Grace Chng is a veteran technology writer. She can be contacted at grace@gracechng.sg