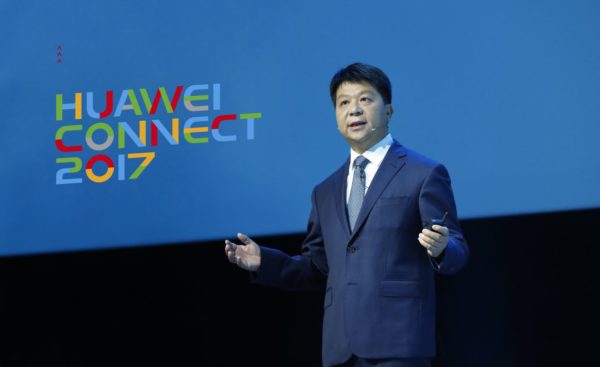 Cloud computing was at the front and centre at Huawei's annual gathering of customers, business partners, media and industry analysts held this week in Shanghai.
Rotating CEO Guo Ping unveiled an ambitious plan to be among the top five global cloud providers in the world when he kicked off the three-day Huawei Connect 2017 on September 5.
The event saw all the break-out tracks, forums and the expo focussed on Huawei Cloud to support infocomm technology (ICT) infrastructure in healthcare, smart cities and public safety projects.
Customers from Europe and Asia went on stage to share their digitisation journey with cloud providing the ICT infrastructure. Huawei also announced its cloud collaboration with Microsoft and six new cloud offerings.
The Chinese telecom firm only provides the technology and infrastructure, said Ping. It will work with partners to provide offerings in vertical industries like healthcare and manufacturing, he added.
He did not say when the Chinese giant expects to achieve its ambition. He also did not name Huawei's potential rivals despite being asked many times at a press conference. However, it will certainly be going up against the current cloud leaders, namely Amazon Web Services, Microsoft, Google and Alibaba.
Huawei's cloud services currently lead in its domestic market. Its global cloud initiative was first announced at its annual global analyst summit held in Shenzhen in April this year.
The Chinese company is eyeing the exploding cloud computing market. According to a 2017 report from management consultancy Bain & Co, the global cloud IT market revenue is expected to explode to US$390 billion by 2020, up from US$180 billion in 2015.
Industry analysts say that by expanding into cloud computing, hardware-focused Huawei hopes to tap into digital transformation projects many companies are embarking on now. It is also a way of growing its software-based revenue for a more even balance sheet at a time when hardware sales of smartphones and telecom equipment face tough competition.
Huawei's cloud strategy is thus a way for it to get into the enterprise ICT market, a path also taken by other telecom companies. Parked under its cloud platform, are ICT solutions in healthcare, financial services, public safety and other areas.
Chinese insurance company CPIC for example developed Alpha InsurAdvisor, a robot insurance advisor where data collected will be based on Huawei artificial intelligence and cloud technologies.
At Cern, the world's largest particle physics laboratory in Switzerland, Huawei's cloud solution is used to safely and securely store and distribute the ginormous amount of data collected by the facility. Cern's experiments result in about 5GB of data collected daily – 10PB per month –  which are sent to its data centre.
However, the number of experiments have risen and hence the volume of data has exploded. It is not viable to continually build more data centres to store, process and distribute the data to the research community. Hence Cern turned to the cloud for information storage and management.
Another customer, Swiss company Schindler, developed a smart urban mobility solution with Huawei to manage its lifts, escalators and moving walkways that have been installed globally. Usage data collected by 1 billion people using these equipment is pushed to the cloud, allowing Schindler to analyse the data and plan, among other things, predictive maintenance.
About 20,000 people attended the event held at the Shanghai New International Expo Centre. Huawei showcased its latest innovations and solutions in various areas including public safety, software defined networking and enterprise solutions.