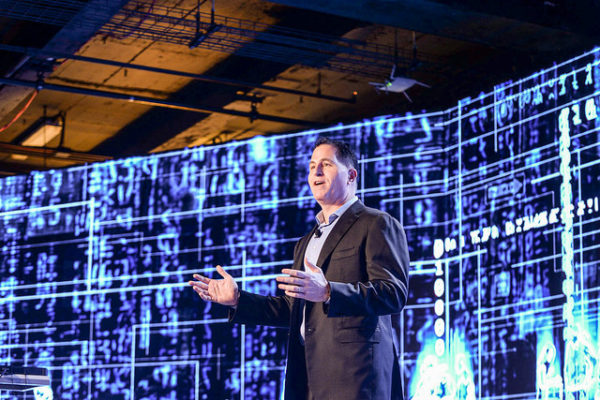 Dell Technologies has enhanced its focus on the Internet of Things (IoT) sector, setting up a new division to speed up implementations of Internet-connected devices for homes, cars, factories, appliances and other things.
It will be investing US$1 billion over the next three years to develop research for this effort, said chief executive Michael Dell at a press event in New York yesterday. To drive this effort, a new Internet of Things division has been set up, he added.
In the near future, the company believes, applications will not run on a laptop or smartphone but on a sprinkler head, car or light bulb. These devices act as sensors collecting data which could be computed on-site, enabling a fast response to unforeseen or time-critical events. This is described as edge computing where computing takes place on the periphery, not in the main cloud-based data centre.
In the media event in New York to announce this initiative, Dell said: "Dell Technologies is leading the way for our customers with a new distributed computing architecture that brings IoT and artificial intelligence together in one, interdependent ecosystem from the edge to the core to the cloud."
This is a fresh way for Dell to challenge cloud-based computing providers such as Amazon and Microsoft. Customers have been spending more with them to manage the giant amount of data created today.
With edge computing, Dell's gear can also be placed near an IoT device to manage all the information it is creating, instead of waiting for the data to be sent to a cloud data center via a network. Its software products and services can then be used to manage the data.
Dell Technologies was formed in September last year after the acquisition of EMC and VMware were completed. With that, EMC's group of companies including RSA Security and Pivotal Software, also came under Dell Technologies.
The expertise of the acquired companies in the enterprise software IT and cloud computing fields complement Dell's strengths in PCs and servers.
IoT is a growing field being touted by many organisations and governments as the next big computing platform. Research firm Gartner predicts that by 2020, there will be 20.8 billion connected things, up almost three times from the 6.4 billion connected things in use in 2016.
Amit Midha, Dell EMC's commercial president for Asia-Pacific/Japan, said the amount of data will swell in the years ahead with trillions of connected things coming online.
In a conference call today, he said that artificial intelligence (AI), machine learning and data analytics will be the key technologies that will centrally process the information and pass them back to the edge.
Ray O'Farell, general manager of the newly formed IoT Division believes that Dell's new strategy is possible because three major computing trends are coming together, namely the availability of low-cost IoT devices, low-cost computing power as a result of cloud computing, and the availability of AI and machine learning to provide the insights.
Speaking in the same conference call, he said the insights can be used to change productivity and efficiency of people's daily lives, or the operations in a smart city or factory.
The needs for such a system are the same as any other IT operation, namely the security, architecture of a system. "But we know how to do this because it we're in this enterprise IT business," said O'Farell, who is also the chief technology officer of VMware.
A leading challenge for IoT is security. O'Farell said that there have been instances where edge devices have been used as points of entry by malicious software to attack the network and computing infrastructure they are connected to.
"A key thing is to have security built-in into the IoT devices. The software used to run the IoT devices must also be 'patchable'."
He explained that IoT devices can exist for many years. When they were first made and implemented, they were without software vulnerabilities. But over time software hackers could find vulnerabilities which they can exploit. So they must have ways of being patched.