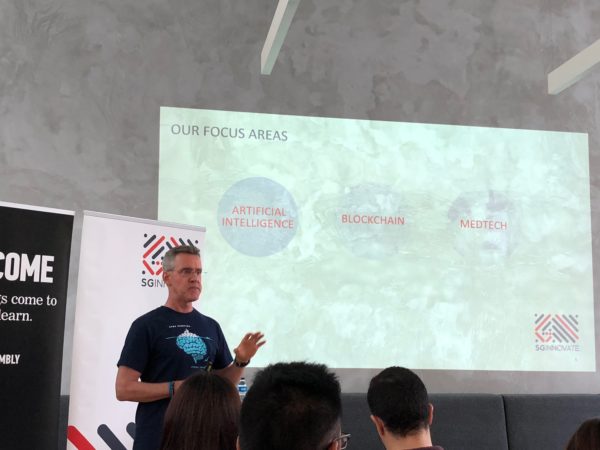 SGInnovate, the one-year-old government-owned company tasked to develop new deep tech innovations in Singapore, aims to invest in at least 20 deep tech startups founded in Singapore. It is seeking 15,000 participants take part in more than 150 deep-tech events.
This is a step up from its investments last year, from 12 startups and 75 networking sessions that brought together 9,000 people for networking.
It has also met hundreds of investors, researchers, business executives and entrepreneurs in the past 12 months to hear their thoughts on supporting, advancing and investing in deep science and technology start-ups and founders, work that they will continue in 2018.
In a media briefing yesterday, chief executive Steve Leonard outlined the company's strategy for next year, called Deep Tech Nexus, where it will focus on building human capital and investment capital.
In particular, it will pay greater attention to start-ups with artificial intelligence and blockchain technologies. A third focus is medtech, though Leonard said its involvement will be on a case-by-case basis.
SGI will go "bespoke" for medtech companies customising its support to individual medtech startups because the process from building new technologies to getting a product launched is more complex requiring long development cycles, extensive clinical trials as well as patience capital,
It has been five years since Leonard first joined the-then Infocomm Development Authority of Singapore as executive deputy chairman. One key thrust he embarked on was the development of the start-up ecosystem in Singapore.
Currently, there are more than 5,000 startups here focussing on various areas from e-commerce to crypto currencies. There is a more buzz and greater vibrancy in the ecosystem today than five years ago.
Every day, it seems there is at least one startup networking event held somewhere in Singapore. Banks and other companies are holding hackathons and setting up corporate innovation labs. Co-working spaces have mushroomed to provide office space for one-man startups to small teams.
Venture capital (VC) investment is also rising and "hot". According to Singapore Venture Capital Association (SVCA), more than US$8 billion in venture capital and private equity (PE) investments was recorded in Southeast Asia between January and September this year, with most of the deals recorded in Singapore.
The figure exceeded gross investments of US$7.1 billion for the whole of last year. A big boost to the local startup scene came recently when gaming platform Sea and games accessories firm Razer, were listed in the United States and Hong Kong respectively.
SGI has come at the right time as the local startup scene matures. There's nothing wrong with another e-commerce or mobile app startup. But deep science and technologies are needed to solve big and outstanding challenges in healthcare and urban congestion, for example.
The greatest impact it has had is being an insider-outsider – one foot in government and one foot in the private sector.
Being government-owned, it has links to public sector agencies and CEOs who can help bolster its work in funding, talent development and generally smoothening out the kinks startups face.
As an outsider, it is also a start-up, nimbler in adapting to the industry and market needs, without being constrained by government rules.
For example, Dr Beh Swan Gin, chairman of the Economic Development Board, is a member of SGI's board. Where and when necessary, he can link up the relevant startups to the multinationals with offices here.
What is illuminating from SGI's experience so far? Surprise, surprise! VCs aren't that all adventurous. SGI discovered first hand that VCs didn't want to jump in as early as SGI wanted them to be.
Partially this is due to VCs being less familiar with areas like computer vision, so they had no risk appetite for these deep science projects. SGI stepped in to fund for some of the pre-seed and seed rounds, continuing with a handful to Series A.
At the same time, it wasn't surprising that many corporations are not stepping up to support startups. They aren't helpful in curating the startups in their own industry, SGI's Leonard said.
They only want to consider the startups when they are big enough, presumably for a potential acquisition. For SGI, it is important to develop relationships with the founders and entrepreneurs so that the startups can develop technologies, products and services that corporations want to use.
As Leonard said, startups and corporations are like Greek and Latin, the twain shall never meet.
It's great to create an environment to support and advance deep science and tech startups. The proof of the pudding, however, is to demonstrate the early success of these companies.
I am waiting to learn more about the one or two of the computer vision, AI, robotics or other deep science and tech startups that SGI has invested in. Not only to satisfy my curiosity, but to better understand why VCs had walked away from funding them.