If your passion goes beyond just blasting your opponents in games but pouring your creative juices and heart and soul into them, you might just have what it take to be a game developer today.
And don't be constrained by the fact you are in Singapore.
A tour in the Ubisoft Singapore studio, which recently celebrated its 10 year anniversary here, revealed to me how much the industry and opportunities have evolved over the last 10 years.
Ubisoft first started as a game distributor in France in 1986. Today, it has a slew of highly acclaimed games and franchises under its belt, including Assassin's Creed, Far Cry, Watch Dogs, Tom Clancy's The Division and Rainbow Six, and Beyond Good and Evil.
The latest game that the Singapore studio is working on is Skull and Bones, an ambitious online multiplayer game where you play a pirate captain sailing the seas in search of rich vessels to loot and grow in power.
Back in 2008, game development was practically unheard of as a career in Singapore, so finding ready talent for the Ubisoft Singapore studio was a challenge.
To cultivate local talent, Ubisoft brought experts with experience from other international studios to coach those in the Singapore studio.
With a vast network of Ubisoft studios around the world and staff of 32 different nationalities, there was a lot of knowledge and expertise to be shared.
There are also annual Ubisoft Developer Conferences for production teams to share ideas, innovations and best practices.
Over the years, Ubisoft Singapore has grown from working on parts of triple-A titles like Assassin's Creed II to playing a much larger part in big titles.
It has developed an expertise in creating water effects and naval combat in Assassin's Creed III and contributed significantly in all other Assassin's Creed games including Unity, Syndicate as well as Origins which was released last year.
Fast forward to today and the Singapore studio is leading the production of Skull and Bones with Singaporean talents in leading positions within the studio.
A behind-the-scenes media tour at the Ubisoft Singapore studio a fortnight ago showed the work that goes into making Skull and Bones.
From creating concept art of the characters, to design and historical research of ships, to creating stunning effects of the ocean, there is clearly a lot of talent and skills needed.
Of course, the main star of the game is the water. Whether it is clear and sparkling seas, or murky and muddy shallows, or angry and tempestuous waves, the water effects of Skull and Bones really stole the show.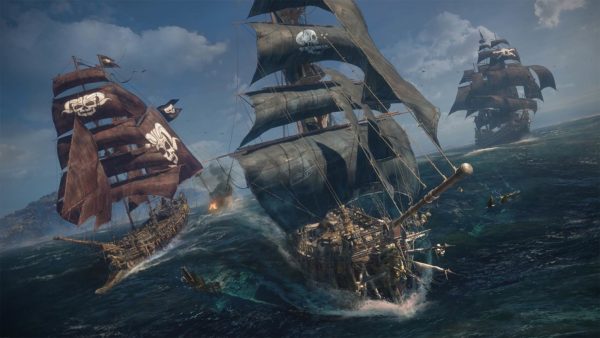 Despite the huge potential of video games as entertainment, it is not without challenges.
There is competition from other studios amid a fast moving and fickle industry. Faced with a demanding audience with high expectations, there is a need for constant innovation and incorporation of new technologies.
Increasingly, technologies such as artificial intelligence and data science for gaming algorithms are defining the strategy and the future of game development. That's exciting for gamers but challenging for game developers.
Good news is, if you are an aspiring game developer, there are lot more avenues today to learn the trade compared to 10 years ago.
One example of an educational institute that specialises in gaming is DigiPen, a partner of Ubisoft Singapore, which was set up in 2008 in partnership with the Economic Development Board of Singapore.
There are also local polytechnics offering formal training with diploma and certification courses on game development. As more game studios are set up here producing their own intellectual property, game development can seriously take off here.
"Focus on developing your strong expertise," said Ubisoft Singapore's managing director Hugues Ricour. "If you are good in mathematics, start programming, if you are good at art or drawing, keep doing it and honing your skill,"
"You can find the door to gaming in many ways if you have a strong expertise," he said, citing his earlier experience in the car industry, which led him to making racing games in Ubisoft.
The conditions are also better than before. Gaming has become mainstream instead of a geeky obsession. More money is being pumped into triple-A titles than blockbuster movies today.
If you want to create and not just play games, there's never been a better time than now to sail the treacherous seas, hone your skills and follow your passion.