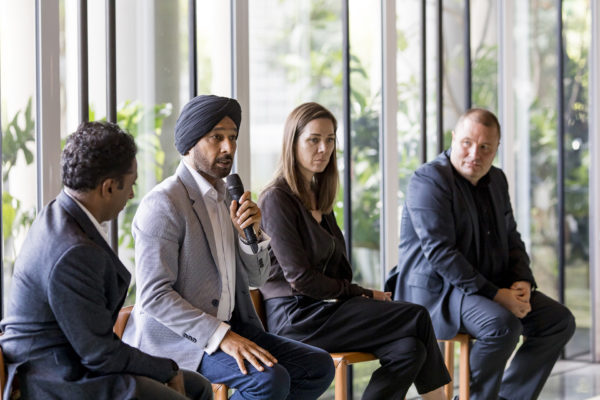 Like many media companies around the world, Singapore's national broadcaster Mediacorp is experiencing massive disruption as readers and viewers opt for other ways of getting news and entertainment.
To face this challenge, the company is focussing its business on ACE, or algorithms, communities and engagement.
Parminder Singh, Mediacorp's chief commercial and digital officer, explained that algorithms represent the company's way of leveraging technology to transform its business.
"Algorithms also mean data, and we want to use data to better curate news, for example, whether we should publish that important statement by a world renowned economist or show what President Trump has just said," he said.
By communities, the broadcaster hopes to co-create new shows since no organisation has all the talent in the world. However, Singh did not elaborate how Mediacorp aims to do that.
"Lastly E stands for engagement which means we go where we can engage our audiences. That is the reason why we are using YouTube to distribute some of our programmes," he said.
Key to the strategy is communication, he stressed. "Everyone comes together with all our projects for decision making so that we move as one team."
He was speaking at a panel discussion held last week by research company Ecosystm. The breakfast discussion, attended by about 50 participants, focussed on the issue of using artificial intelligence (AI) for improving CX and UX, technology shorthand for customer and user experience.
Ecosystm principal advisor Manoj Menon, who spoke before the panel discussion, pointed out that in the Asia-Pacific region, businesses are already using AI to improve customer experience. Key to getting 10 times improvement in customer experience is to replicate a sports experience, he said.
There are six steps to this, he said, starting with purpose, that is how to inspire and nurture the human spirit. Starbucks' strategy, for example, is to serve one cup of coffee and one neighborhood at a time.
"Then focus outcomes. Airlines organise themselves this way, customers book the ticket to travel in the fastest shortest way. This way,they own the customer journey," he said.
Third is C suite symphony where senior management must collaborate with each other. Working in silos is forbidden.
Fourth is to integrate old and new business models. Payment is the traditional way people buy services, but the experience can be improved by personalising customer needs.
He added: "Fifth is colosseum, the place where people go for the experience, like the Apple Store and Nike stores and sports stadiums. This is how to connect the digital and the analogue. Lastly, it is rituals and shared experiences. Like Black Friday sales."
Another speaker Tim Sheedy, Ecosystm's principal advisor said chatbots are proliferating at a rapid rate. These tiny pieces of AI programs are being used as business tools usually for customer support but also in other areas including marketing and data collection.
An Asian car firm, said Sheedy, has programmed a chatbot to recognise anger in customers' voice. "When anger is detected in a chat conversation, it will automatically activate a person to call the customer."
In Singapore, for example, there is Bus Uncle, a chatbot on Facebook Messenger which can tell bus commuters not only the time of their next bus but provide jokes to entertain them during their journey.
Chatbots have to be managed, said Sheedy, since a company can have as many as 20 chatbots, scraping data from the applications they operate in.
"When the chatbots are in five different databases and when the databases change, the chatbots will break because the algorithm changes," he noted.
"There's a need to start managing them, we need to think about when to feed them and retire them," he added.
But who should manage the chatbots? Is it the IT or human resources department?
Anika Grant, global HR leader for Uber, pointed out that chatbots are engaging with customers. Sooner or later HR, would have to consider setting rules for them, said Grant who was also a panellist at the Ecosystm discussion.
"It's also about governance policies. We have to start thinking about managing them so that the tech professionals do not unwittingly program a bot that violate corporate culture or values," she stressed.