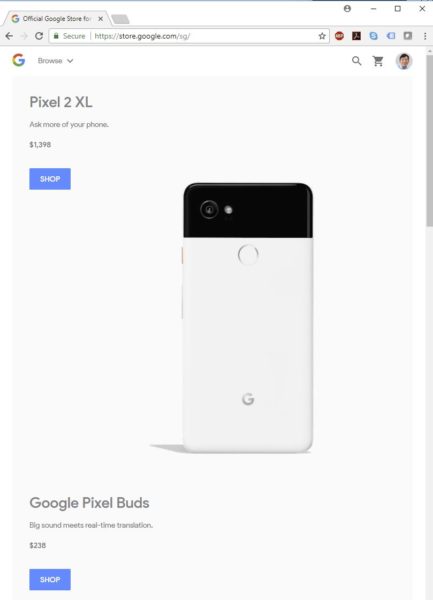 Google finally started selling its Pixel 2 XL phone and other gadgets on its Singapore store this week, months after it simply directed users to other retailers.
On the online store now, users can buy a handful of items, including the Pixel 2 XL going for S$1,398 and the newly launched Home Mini that costs S$79.
The popular Wifi kit, launched last year, is priced from S$199. Also available are the Pixel Buds earphones which cost S$238.
Previously, the Pixel 2 XL was sold exclusively by Singtel and Wifi was only available from StarHub. The Pixel Buds were sold at other outlets.
The updated store will be the first time Google has actually started selling its branded hardware in Singapore in recent years. When the store was first opened in October 2017, it did not have anything to sell online.
Instead, it directed users to its exclusive partners, infuriating many potential customers who had been looking forward to buy direct from Google instead of shipping the items over from the United States, which usually came without local warranty.
For folks looking to the next big Google gadget, the newly stocked store will be a long-belated step forward. It means that new gadgets could potentially be available earlier in Singapore after their launch in the US.
At the same time, you can hardly blame users for being a little wary or skeptical. After ignoring the Singapore market for so many years, Google still has a lot of convincing to do.