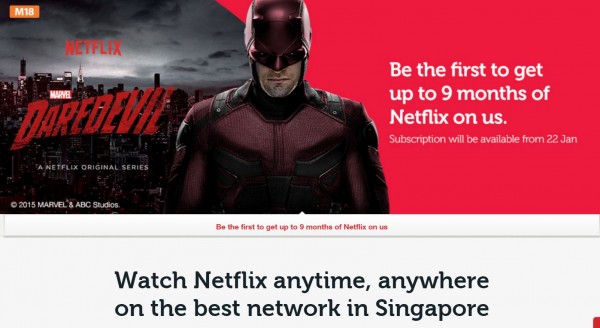 Singtel is giving some of its customers up to nine months of free Netflix subscriptions, in a bid to win over viewers who may be thinking of cutting the cord and dumping its pay-TV set-top boxes.
To enjoy the offer, they have to sign up or re-contract to a Singtel mobile service plus its Fibre Entertainment Bundle+ offering.
In return, they get free access to nine months of Netflix's standard HD package, which costs S$13.98 a month and lets them view HD versions of the videos on two devices simultaneously.
That comes up to savings of S$125.82 on Netflix subscriptions. However, these viewers will be tied to Singtel for two years when they sign on the dotted line.
Obviously, the plan is good news for those who already have decided to stick with Singtel. Or if they somehow want to watch the shows through Singtel's set-top box, which will start bringing programmes from Netflix in April.
Otherwise, it may be wiser to just try out Netflix for free for a month – an offer open to anyone – and see if you still want to keep that set-top box at home.
The same applies to two offers from Singtel that give three and six months' worth of Netflix subscriptions.
You get the varying discounts when you connect to Singtel mobile, fibre or pay-TV plans (more details here), but you'll be contractually tied to the telecom operator in exchange for a rather modest discount.
Cable operator StarHub has also said it was in talks to bring Netflix to its customers though prices have not been revealed yet.
Separately, Netflix revealed yesterday that it would be curtailing users who unblock content meant for viewers from other countries.
In a blog post, vice-president for content delivery architecture, David Fullagar, said the company would also try to bring as much of the same programming to each of the 190 markets it is currently in.
Traditionally, content owners have carved up the world when selling broadcast rights, in a bid to maximise revenue.
It's a practice increasingly irksome to consumers. Despite its launch in Singapore, Netflix subscribers here have continued using their virtual private networking (VPN) services to access content meant for American subscribers, such as the House of Cards drama not available here because of licensing issues.
It remains to be seen how successful Netflix's promise to stop such proxies or VPN services will work. Other service providers have also tried with varying successes, the only guaranteed result being annoyed customers.