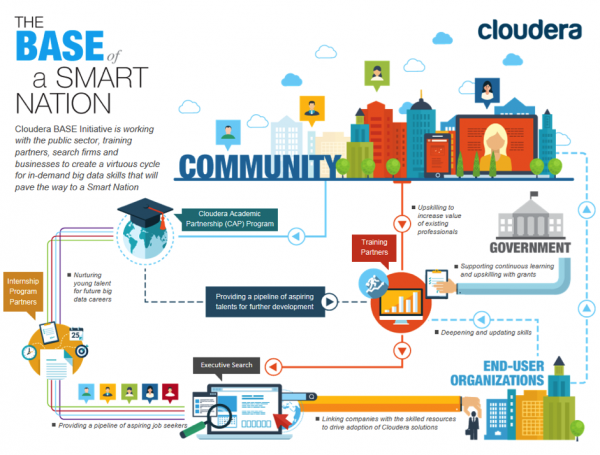 Data management and analytics provider Cloudera is partnering the industry and academia to groom future data and analytics professionals in Singapore, as the country looks to tap on opportunities in the growing field.
The so-called Big Analytics Skills Enablement (BASE) programme will help fill the labour gap faced here, as Singapore seeks the know-how for its smart nation ambitions.
"We need our people to be equipped with capabilities to unleash the full potential of data, to glean new insights, and solve our urban challenges as we collectively build a Smart Nation together," said Dr Vivian Balakrishnan, Minister of Foreign Affairs and Minister-in-charge of the Smart Nation Programme Office at a launch event on Tuesday.
BASE will work with businesses such as Dell, Intel, Red Hat, and Microsoft, as well as schools like the National University of Singapore (NUS) and Institute of Technical Education (ITE), to equip more people with skills in Big Data and analytics through internships and classes.
A partnership with Itel International will also enable BASE to match professionals who have completed previous training to vacancies in the market.
"This collaborative innovation will help us bring new data-enabled talent into the market through skilled professionals who can leverage the tools and actualise data for business and the community," said Doug Cutting, Cloudera's Chief Architect and co-creator of Apache Hadoop.
The BASE initiative is complementary to Cloudera's own Academic Partnership (CAP) program, which provides partner institutions with an industry-standard, open-source Apache Hadoop curriculum that may be integrated into computing and analytics courses at no cost.