It's a Sony. That's something you'd think you'd never use to describe a car, despite the Japanese electronics firm becoming such an iconic consumer brand with the Walkman and Trinitron TV.
Yet, in the biggest surprise in this week's CES 2020 show, the Sony Vision-S prototype car has thrilled many drivers who wish for a disrupter to spark new ideas in the car industry.
The Sony electric car is packed with more than 30 smart sensors to bring safety and comfort to drivers. You get a dashboard-wide screen filled with information and entertainment options, plus sensors that detect when your face shows tiredness, for example.
To be sure, the Bravia TV and Playstation maker isn't going to start selling a car soon. The prototype is more of a showcase of what Sony can do with its in-car technologies. However, this new car, unveiled on Monday here in Las Vegas, points to a disruptive future.
It is not difficult to create a car any more and the experience will be defined by the ride as well as the software running on it. As Tesla rolls out its first electric cars from its China factory, it is showing that consumers want new interfaces and greener electric cars.
It's not that the likes of Audi, BMW and Daimler, who are also here at CES, should be overly worried about Sony, since making money from cars takes a lot more know-how about manufacturing, for starters.
However, just as the emergence of ultra-efficient robots in the 1980s enabled Japanese car makers to leapfrog many of their more established rivals in the industry, there is no understating the disruption upon the industry today.
What will the future car look like? Well, as I always explain to my kindergarten-going daughter, she probably won't need to drive in future when she is old enough, because cars could well be autonomous.
Plus, the insides will be full of screens and sensors, if what we are seeing at CES is a sign. Driving will no longer be a chore, even with more urban cities cropping up and forcing people to share cramped spaces.
You could rest in the car after a meeting, for example, or listen to music, without the hassle of manually navigating through city traffic. Or even play a virtual reality game, if what Audi has been showing at CES in the past comes to pass.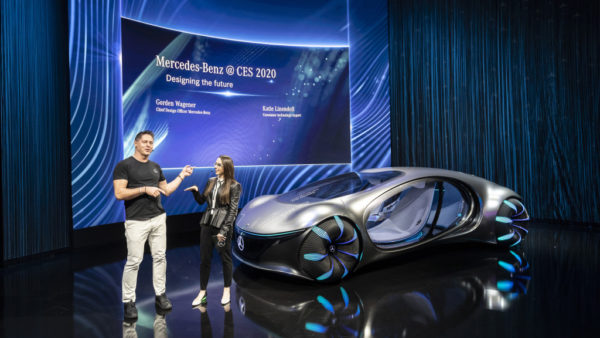 This year, the car makers' designs are even more outlandish. Daimler showed off a Mercedes-Benz car inspired by the Avatar movie, which featured organic materials, such as scales. Yes, scales.
The insides are more inline with how people use their phones as well. Instead of physical buttons, a driver can control functions in a car, say, to power it off, by grasping a light that is projected from the centre console.
Okay, very fancy, but such a car will likely not end up in production. Indeed, these exercises are what traditional car makers can do in their prime today, when they are flush with cash.
As the focus goes to sensors and software interfaces in future, you wonder how well they will do. Can they transform into software or technology companies rather than just the makers of automobiles?
Sony's concept car, made with electric car platforms from third-party suppliers such as Magna, points to a possible future where the underlying technology could be common and users merely choose a car based on design and user interface.
Sounds familiar? Yes, that's the low-margin PC business today. Car makers like Audi, Daimler and BMW will be dreading such a future. Yet, they know they cannot rule it out, even if things are not looking so bleak yet.
Besides Tesla, there will be new "digital-native" challengers like Byton from China, which has never made anything other than electric cars. It now has a car whose dashboard is almost entirely a digital screen. Well, why not? There are no rules cast in stone any more.
Change is already here, so it's a question of how fast car makers adapt in future. Plus, how well they adjust to consumers' changing needs. People may not buy a car every other year, like an iPhone, but they want the latest interface. After a car rolls off the assembly line, its software has to remain updated over time.
Notice that Audi and Mercedes-Benz cars now support Google's Android Auto app, which users are increasingly getting used to in their cars. Even BMW, one of the last holdouts that has avoided Android Auto, is finally offering an update to support it in 2020.
Less than 10 years ago, giving up control of key entertainment and navigation functions in the centre console to a third party was unthinkable
Today, failing to give users the software interface they want is a sure way of losing them, even if you promise the ultimate driving experience. That's assuming there's even going to be any driving needed in future.