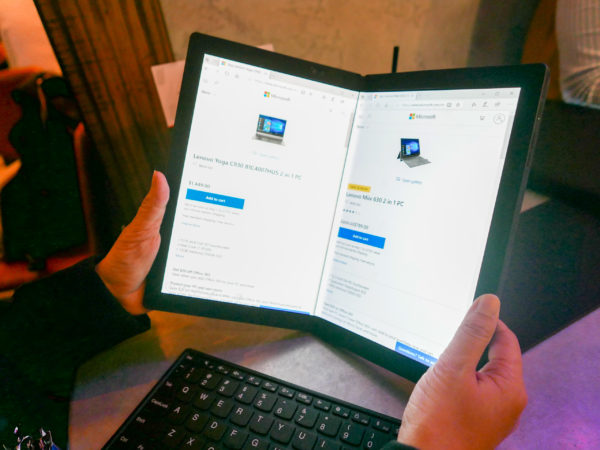 The Lenovo ThinkPad X1 Fold may be the first PC with a foldable OLED screen but the latest wonder gadget doesn't impress you with a stunning design at first glance.
At the CES 2020 show at Las Vegas today, I managed to try out the Windows PC briefly. For a groundbreaking gadget, it seems more promising than its looks at first suggest.
Now, the thick bezels around the screen seem like a step back from the sleek thin-edge designs we have had of late on ultraportable laptops. Plus, the device itself feels a little heavy and hefty when held in the hand.
That's a little unfair once you realise that this is not a tablet, even though it folds up to be as small as an easily handheld gadget.
If you consider that it's just under 1kg and has a 13.3-inch screen like a regular laptop, this is one of the lightest in the business. The HP Elite Dragonfly weighs about 1kg as well.
The ThinkPad X1 Fold, however, is easier to place in a handbag, for example. Or even slip into a compact briefcase if you're a man. Either way, its foldable screen brings new possibilities.
We have already seen how the Samsung Galaxy Fold last year opened up new ways to use portable gadgets. Lenovo's design seems to have improved on the Korean company's.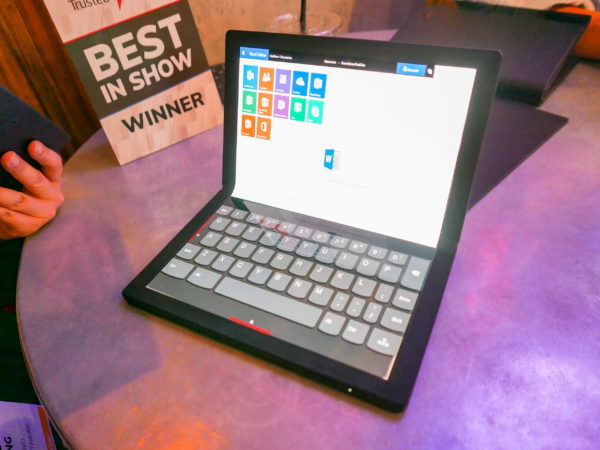 For starters, the fold around the middle of the screen does not seem to be as deeply indented as on the Galaxy Fold phone. So, there isn't as obvious a crease – it's still visible when you look for it but when you run your finger over the screen, you don't feel it.
Indeed, the engineer at the Lenovo booth who showed me the ThinkPad X1 Fold told me that was the first thing that many people did when they got the new device in their hands.
One reason why the edges of the screen are thick is so that the screen is durable, according to Lenovo. Better to be safe than to have people destroy the screen, like what happened to Samsung's first batch of devices early last year.
Lenovo says it had tried out six hinge designs with 20 variations before settling on the final one with a multi-link torque design. A carbon fibre-reinforced frame plate helps support the device as it goes through the daily stresses.
Despite this, it flips open easily enough, from my quick hands-on experience. There are many new uses of this flexible screen. For starters, you can open it all up and have a large flat-screen tablet to watch your Netflix shows on.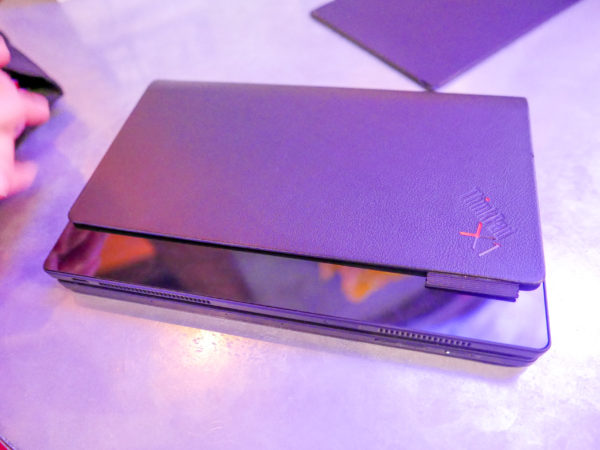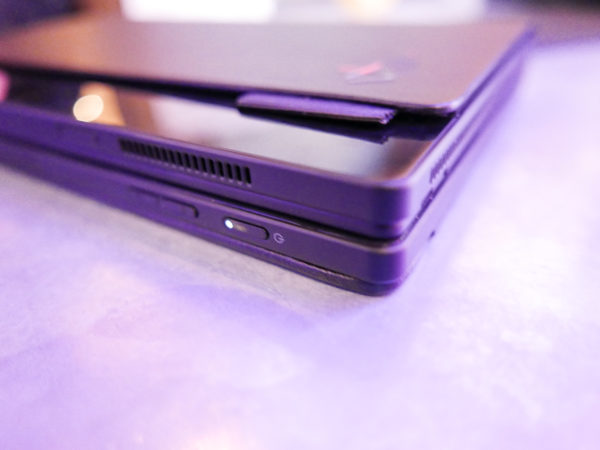 Folded in a clamshell mode, you can use it like a laptop. You either do this with the virtual keyboard on the bottom part of the screen, or snap on an included Bluetooth keyboard.
Bad news here is that you are using up valuable screen space. With a 13.3-inch laptop, you have the full size of the display. Here, you give that up for your keyboard.
The alternative is to use the entire screen standing up, with a kickstand at the back to prop it up. Then your keyboard is separate, rather like a Microsoft Surface Pro. I didn't manage to try how well the ThinkPad X1 Fold stands up while placed on my lap.
There are other upsides, to be fair. You can have what seems like two separate screens in this clamshell mode. This is useful when you are having a video conference call at the top and taking notes at the bottom of the screen with the included stylus.
You can also fold the Lenovo device into the shape of a book, to go through your e-books while on a plane. Of course, this is no Kindle reader – this e-book reader weighs 1kg. Yes, hefty to hold up.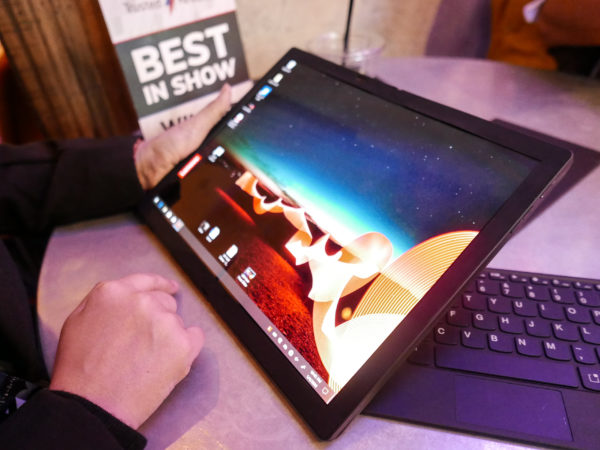 Lenovo's new gizmo comes with an Intel Core processor, though it won't be an i3, i5 or i7. It runs on the Intel Lakefield design instead, which combines the power needed to run Windows without sucking up battery and generating so much heat on a small device.
Lenovo says that the device still has a fan for instances when there is a need for things to spin up. Think of your high-resolution Netflix shows, for example.
To be honest, the ThinkPad X1 Fold still feels a little like a prototype, or at least a working model of a still-nascent foldable screen technology. What will attract people is the price, though.
Costing from US$2,499 when it goes on sale in the United States in mid-2020, the new gadget isn't cheap when compared to rival laptop models going for under US$2,000.
However, it does have the wow factor, along with the promise of a new era of computing. Don't forget that Samsung asked for close to US$2,000 for its Galaxy Fold last year and that had a lot less power and a smaller screen.