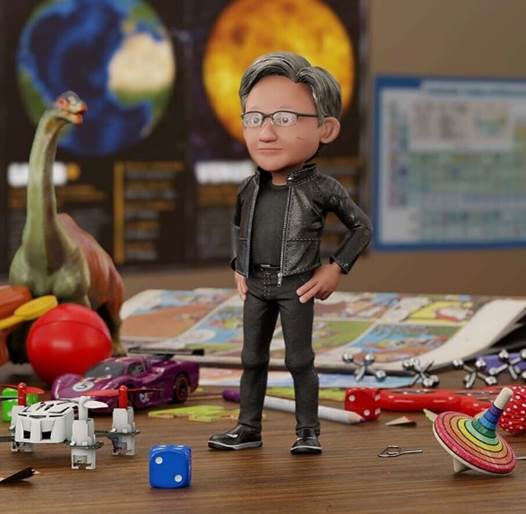 Large tech companies such as Roblox, Microsoft, Meta (previously Facebook) and Nvidia are in gaming, software, social media and chip making respectively and they have been criss-crossing into each other's turf in recent months.  What are they after?
They all chasing the emergence of a metaverse where the physical and digital worlds collide and where consumers and workers immerse themselves in a digital world of work and play.
And where there are people, there are business opportunities in advertising and marketing and the chance to experiment and develop new products and services in a safe space.
To build this hybrid world of the future, an infrastructure comprising software, digital frameworks and models and massive data are needed to create a lifelike high-quality experience.
Last week, chipmaker Nvidia staked its claim for this new hybrid world, laying out its plans to advance accelerated computing with a slew of new offerings in its Omniverse portfolio as well as in artificial intelligence (AI), robotics and self-driving cars.
Chief executive Jensen Huang said in his keynote address at Fall GTC 2021 virtual event last week that with Omniverse, "we now have the technology to create new 3D worlds or model our physical world." Omniverse is Nvidia's term to describe the hybrid world.
Nvidia's Omniverse is a simulation and collaboration platform powered by its superfast graphics processing units (GPUs) and enhanced with AI to serve as the connective tissue for physically accurate 3D virtual worlds.
Automotive companies, for example, can use this platform to create self-driving cars without having any real car touch the tarmac. The platform creates a "digital twin" of a car, running it in a simulation of diverse and rare traffic scenarios and conditions that would be hard to replicate in the world.
Data can then be effectively collected to program autonomous vehicles. Different teams of engineers and designers can also work together in real time collaboration. This technology will reduce development costs and boost efficiency.
Huang also unveiled the Nvidia Omniverse Tokkio which enables users to create their own online avatar from scratch and and Maxine, a platform to improve video conferencing.
He demonstrated an avatar of himself in Project Tokkio. Through accelerated computing and training by Nvidia's AI-enhanced servers, his avatar was animated and able to answer tough questions, demonstrating that future avatars could be more engaging than a disembodied voice.
In Project Maxine, Huang demonstrated how AI-enhanced GPUs could improve common problems in video conferencing. 
Instead of streaming the entire screen of pixels, the AI enhanced GPUs in Maxine analyses the key facial points of each person on a call and then intelligently re-animates the face in the video on the other side, dramatically reducing the bandwidth needed and improving the quality of video calls.
The Omniverse platform with all the tools is available for enterprises now at an annual subscription of US$9,000.
Companies that have been working with Nvidia Omniverse include carmaker BMW, which used it to simulate what an advanced manufacturing facility would look like.
Separately, mobile equipment firm Ericsson has used the technology to gauge the effectiveness of the distribution of 5G base stations.