Brought to you by Alibaba Cloud
Despite the advances of the cloud in recent years, many businesses still spend a lot of time updating the software on their employees' computers to keep out security threats and enhance collaboration tools in today's hybrid work environment.
At the same time, businesses are held back by the fixed performance on each computer, which means they have to upgrade the hardware frequently to ensure productive work by employees.
There is now a better way with the Alibaba Cloud Wuying Cloudbook, which extends the flexibility, performance and security of the cloud to the user devices that employees turn on every day as they start work.
Though it might resemble a typical laptop, this cloud computer harnesses the true power of the cloud, bringing with it unlimited computer power, data security and improved efficiency.
By connecting to Alibaba Cloud, the technology and intelligence backbone of the Alibaba Group, the Wuying Cloudbook is able to draw on the power of cloud computing and minimise the workload for local devices.
Just like with cloud applications, users can scale the computing power and storage up or down to meet their unique demands.
In others words, no more worries about the lack of computing power to render a 3D model or compile the code of a large piece of software – tasks which could not be run on a laptop without enough computing power and storage capacity.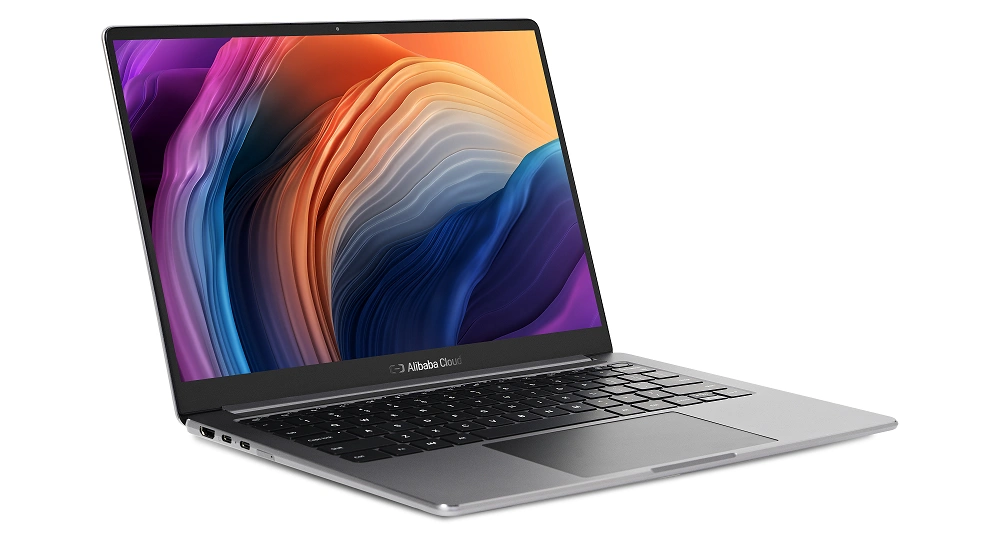 Sporting an ultra-thin body just 13.9mm deep and a 14-inch touch-screen, the Alibaba Cloud device also brings flexibility to businesses.
They can use the same device for a wide variety of tasks, from everyday productivity tasks like e-mail to more demanding ones such as video editing. With the power of the cloud on tap, they do not have to worry about hardware or software constraints.
Users can run multiple operating systems, including Windows, Linux or Android simultaneously. Unlike a typical laptop, there is no need to keep downloading and installing software on local devices, since the software is also deployed and running on the cloud.
At a time when businesses are on alert against cyber threats, the Wuying Cloudbook also helps to reduce the typical security challenges facing businesses.
It does so by centralising and managing the data and files on the cloud, where a user connects to securely each day, instead of storing them on his device.
The Wuying Cloudbook will be timely for many businesses that are looking to meet new requirements for a mobile, hybrid workforce, and attempting to adopt a cloud-first approach to IT deployments.
Already, the new device has been adopted by organisations in the automotive and education sectors.
In China, IM Motors, an intelligent electric vehicle company, is the first in the automobile industry to adopt the Wuying Cloudbook for its product design.
R&D teams in different locations use it to gain access to the design documents, which are available on the cloud to multiple teams in multiple locations.
East China Normal University is another early adopter of the Alibaba cloud computer. It has replaced traditional server rooms in research projects, allowing students to work seamlessly on their projects when they move from laboratories to classrooms and dormitories, as the research data has been centralised in the cloud.
Research efficiency has also been greatly improved by running data analytics on the cloud.
Unveiled on November 2 at Alibaba's annual Apsara Conference , where new launches and announcements made around Alibaba Cloud's business strategy, products and partnerships, the Wuying Cloudbook is set to braze a trail in the years ahead.
With it, the Alibaba Cloud now offers cloud computing in the form of a card, a box, an all-in-one PC, a laptop, a Desktop-as-a-Service, and cloud-based applications.
They are supported by Alibaba Cloud's Wuying Architecture, which is designed to optimise workload collaboration between cloud and local devices.
"Wuying Architecture is a powerful extension and expansion of the workplace. It helps enterprises to enhance flexibility and improve operational efficiency," said Jiangwei Jiang, senior researcher and general manager of infrastructure products at Alibaba Cloud Intelligence.
"Thanks to its compatibility, Wuying Architecture brings the benefits of cloud computing to hardware brands, software vendors and enterprises, as well as individual users," he added.