Brought to you by ConnecTechAsia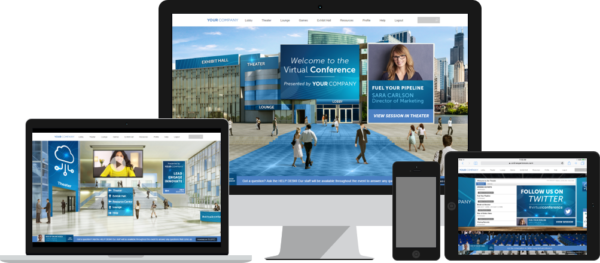 When it was announced in June that the ConnecTechAsia show this year would go virtual, many exhibitors were sceptical.
How could a regional IT, telecom and media event that drew in visitors by the thousands each year be replicated online? More importantly, why is there a need to even visit an event when you can make the virtual connection yourself?
That perception has changed dramatically in recent months, said Ivan Ferrari, event director for tech, media & entertainment events, at Informa Markets, the organiser of ConnecTechAsia.
People have stopped holding out hope that a vaccine will return things back to normal quickly, he explained, and they are more willing to embrace a virtual experience that brings some of the rich experiences that a physical show can deliver.
Not just any virtual show, to be sure. The ConnecTechAsia event this year, from September 29 to Oct 1, will have virtual booths for visitors visit online to browse a company's information and chat instantly to a representative.
This goes beyond the usual webinar-style presentations that offer little of the interaction that a regular trade show delivers during face-to-face meetings.
Can't visitors simply go to a company's website? Well, these virtual booths at ConnecTechAsia will be focused on what the exhibitor wishes to show off at the event, for example, its latest products and services.
Plus, there will be representatives and experts of the specific offerings on hand to meet interested parties virtually during the time of their virtual visit. So, the experience promises to be close to being at a physical booth, with some enhancements.
When a visitor turns up at a virtual booth, he can view an introduction video followed by a short elevator pitch about the company. From here, he can opt to speak to a representative over a live chat, say, to find out more about a product or service.
For exhibitors, would this mean losing those chance meetings with a visitor walking past their booth? Not really, says Informa.
Anyone who visits a booth is registered, so an exhibitor might still initiate a chat or a virtual coffee later, based on whether the visitor is someone who is of interest.
In many ways, this eliminates the need to keep introducing one another at a first meeting, said Ferrari. "You know exactly who this person is, so you don't waste time, you can maximise ROI instead of trying to speak to everyone who walks by."
Making use of data is something that conference exhibitors can do a lot more of, he added. A virtual trade show can deliver the business leads and interactions that a physical show offers, while opening up new avenues for the future, he noted.
For example, business matchmaking is easier and more targeted now. An exhibitor can scour the database for people registered for the event and start a conversation with those who might be interested in what they have to say.
The quality of the people attending has to remain high, of course. This year, ConnecTechAsia has confirmed more than 200 exhibitors and will feature 220 conference speakers, including top names in the industry.
They include Huey Tyng Ooi, the managing director and head of GrabPay, Brenda Harvey, general manager of IBM Asia-Pacific, Anne H Chow, CEO of AT&T Business and Bicky Bhangu, president of Southeast Asia, Pacific and South Korea for Rolls-Royce.
Just as the speakers are expected to discuss how businesses are adapting to the pandemic's new normal, event companies are also expected to push forward their transformation plans to stay afloat in a sector that has been turned upside down.
Informa Markets had wanted to create a hybrid event a few years from now, but this plan has been accelerated because of the need to cater to the current travel and social restrictions, said Ferrari.
With Covid-19 eventually under better control, possibly with better safe distancing and perhaps even a vaccine or treatment for it, physical shows will come back but in a hybrid format with a strong virtual element, he noted.
So, instead of just organising a one-off event, here's an opportunity for event organisers to keep the interest up all year round with smaller virtual experiences, as they count down to the one big event of the year to meet up, shake hands and have a coffee with partners, he argued.
What if people get used to travelling less and doing more virtual meetings? Would they still want to visit a trade show in future?
Ferrari believes people will still want to meet in person, even if such interactions become less common. "You will still have a large, one-time mega face-to-face meeting as it's a joy to meet people when you can actually see them in person."
Check out the latest on 5G and other telecom technologies at this year's CommunicAsia, part of ConnecTechAsia, Asia's leading infocomm and media event. Register here.