The Zenbook 17 Fold from Asus isn't the first two-in-one laptop with a foldable screen – Lenovo showed off a demo almost three years ago – but this new design from the Taiwanese PC maker is a mass production model with wide availability.
Indeed, it looks a lot like any other laptop when you take the Zenbook 17 Fold out of the packaging. You get a keyboard that is stuck on the lower part of the screen when it is folded into an L shape.
When closed, the Zenbook 17 Fold reminds me of the silhouette of an old Compaq laptop in the late 2000s, so this isn't like many of your more regular thin-and-light laptops today.
The Asus laptop is actually 3.5cm thick and this is quite noticeable. You can't unfold it completely flat either, because there is still a hinge, rather like old photo albums.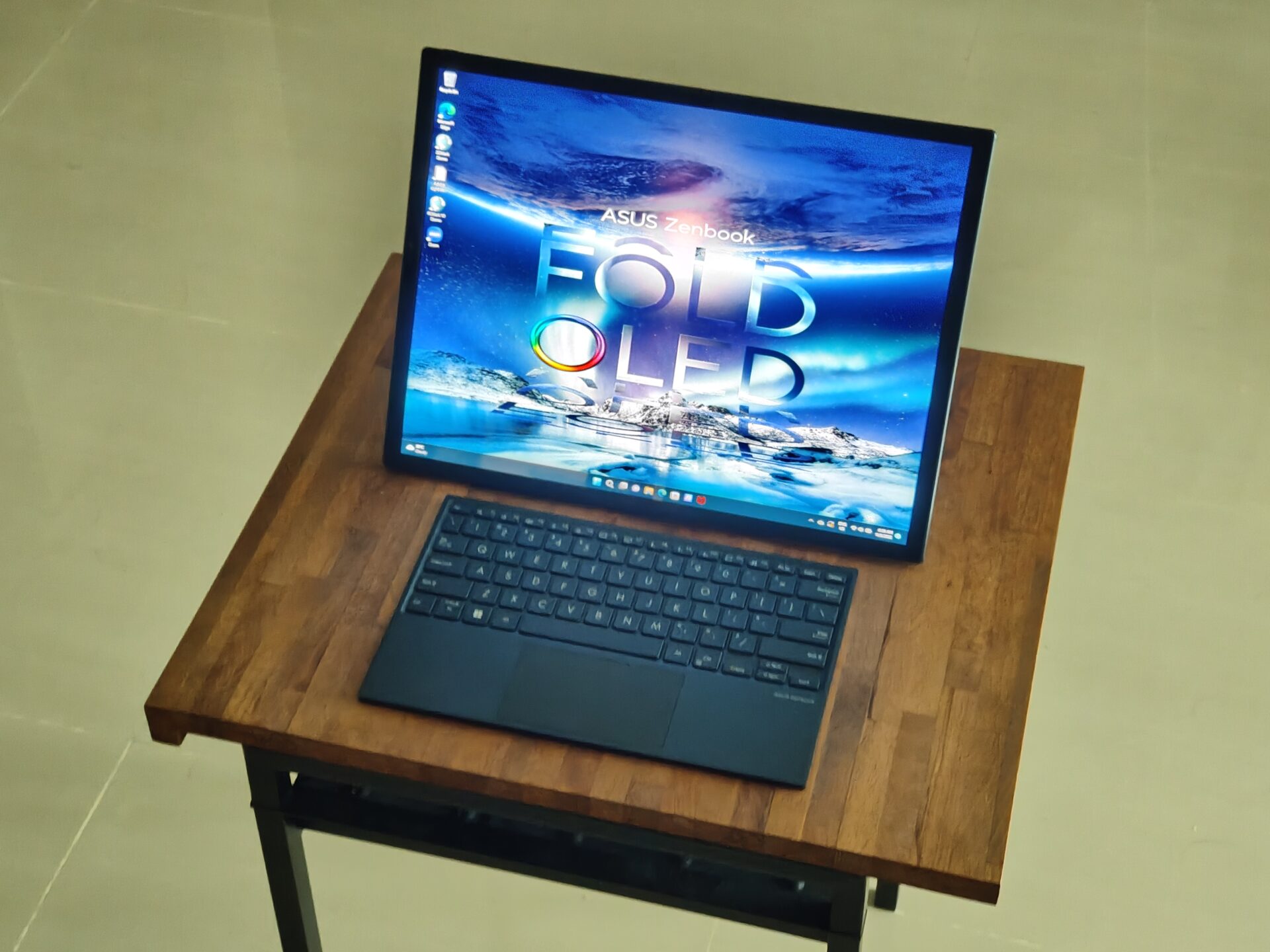 What's slick about the Zenbook 17 Fold is its party trick – the foldable screen enables it to be set up like a desktop PC, with a removable wireless keyboard facing a large 17.3-inch screen with a resolution of 2,560 x 1,920.
When you fold the screen into an L shape, you can attach the keyboard magnetically into the bottom half to use it as a laptop. Sure, you get less of the screen this way, but this also saves space, say, in an cramped Economy plane seat.
Finally, you can also use the screen like a tablet and chuck the keyboard somewhere else. The foldable screen means you can use it like a tablet for, say, reading up the latest news while at a cafe or on the go.
The only thing is, the Asus machine's 1.5 kg heft will quickly make its presence known. By comparison, most thin-and-light machines weigh 1.3kg or less, though they also have typically smaller 13-inch screens.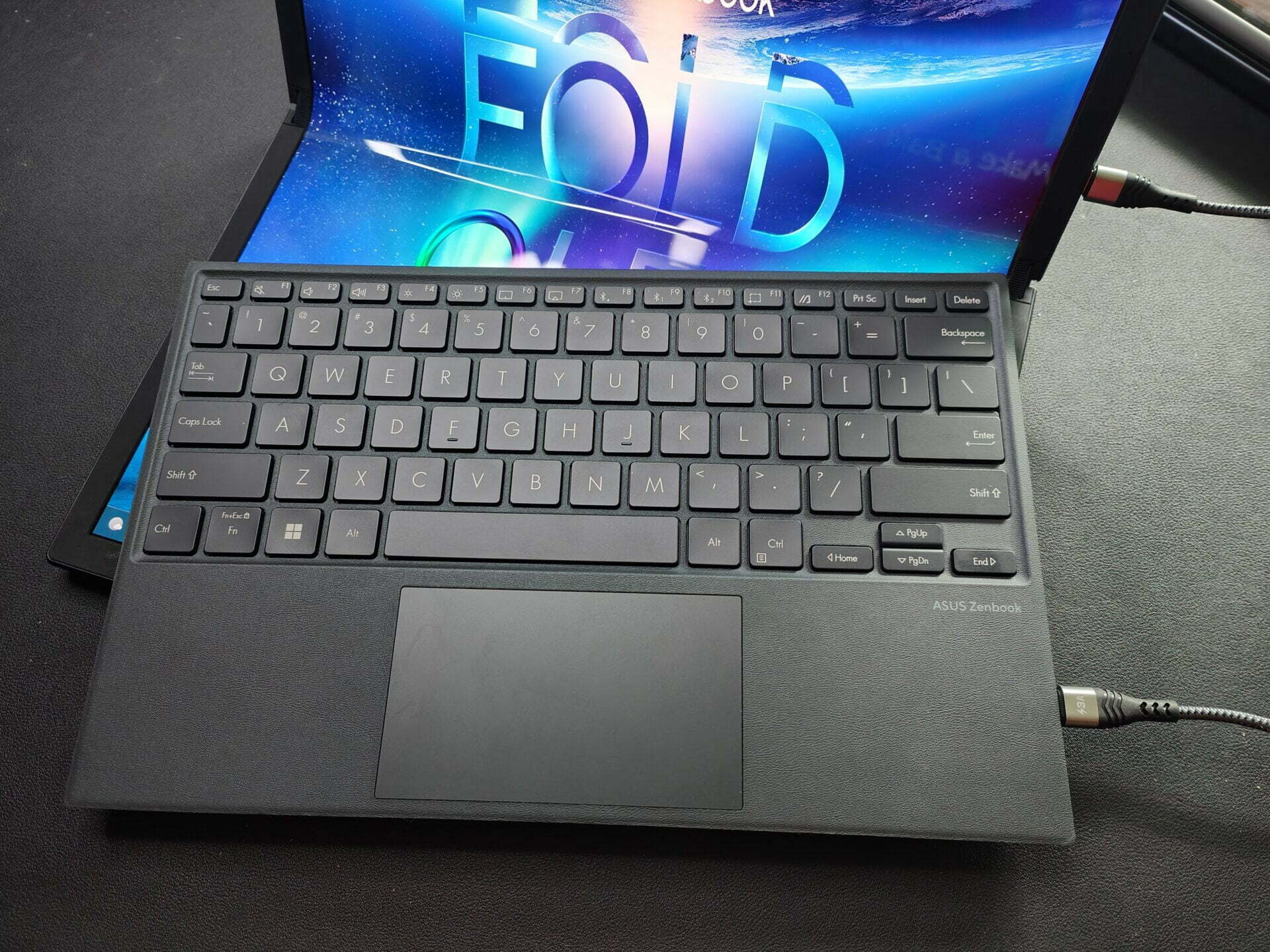 Where would the Zenbook 17 Fold fit in? I would like a good-sized screen when working in the hotel room, for example. On the go, it does feel like a regular laptop, albeit not the lightest around.
The concept is not flawless, especially if you need to do a fair bit of video calls. In desktop mode, the camera's awkward position doesn't capture my face in the middle of the frame. I have to switch the computer to the standard laptop mode whenever a Zoom or Microsoft Teams meeting is on.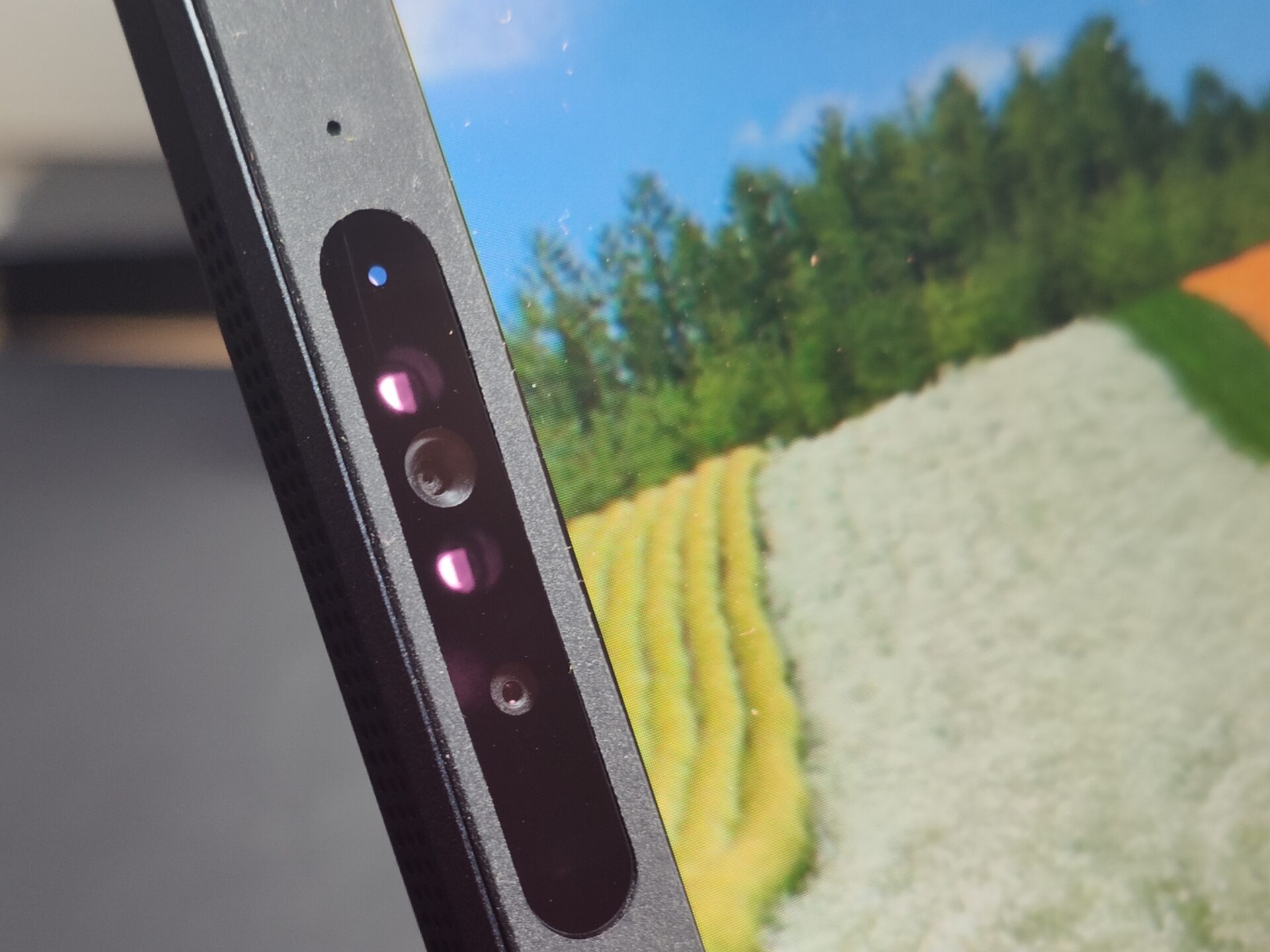 The good news is that the Flexible OLED (FOLED) screen offers vibrant colours and is bright indoors with a 500-nits rating.
With the Harman Kardon speakers built in, the laptop makes watching videos quite a joy. A 3.5mm audio port also lets you plug in your wired headphones if you want a more immersive sound.
How does The Zenbook 17 Fold perform? It should be on par with the average thin-and-light laptop with an Intel Core i7-1250U chip, 16GB of DDR5 RAM and 1TB of solid state storage.
It returns a score of 5,003 for PC Mark and 3,913 for Cinebench R23. These tests measure performance in common tasks like wordprocessing, video calls and video editing.
In 3DMark tests, which simulate games, the new Asus laptop scored 968 for the Time Spy subtest, 2,508 for Fire Strike and 9,095 for Night Raid.
In other words, decent for most office tasks and simple Full HD video editing, but not blowing away the competition, either.
Compare the Zenbook 17 Fold's scores to the S$2,988 Asus ROG Flow Z13 lightweight gaming machine, which scored significantly higher for PCMark (6,483).
That older machine also has a gaming graphics chip that easily beats the Zenbook 17 Fold's Intel integrated graphics for performance. In 3DMark tests, it scored much better in all subtests – 4,049 for Time Spy, 9,233 for Fire Strike and 27,312 for Night Raid.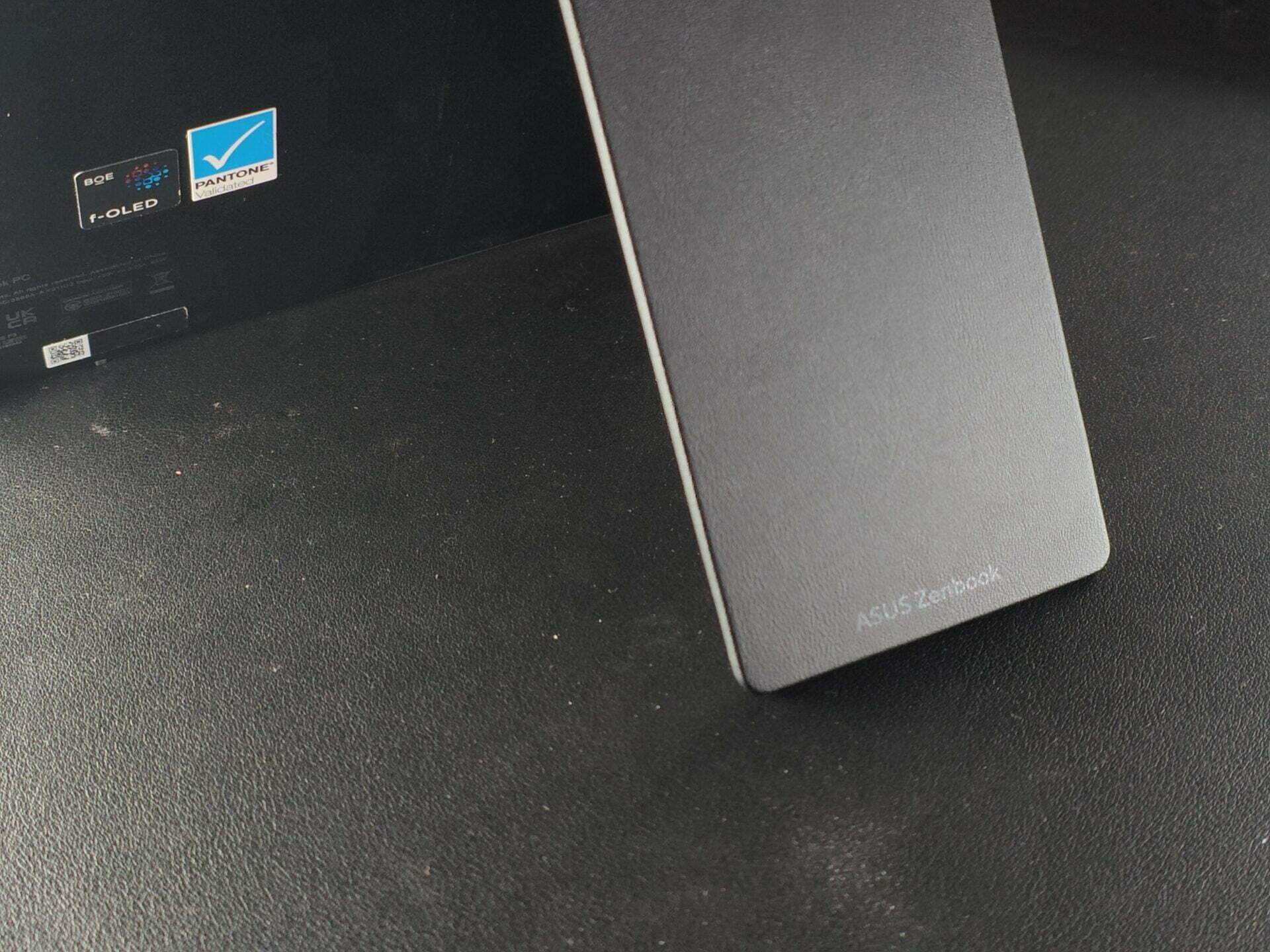 Since this is one of the earliest designs of a foldable screen for a laptop, there are bound to be teething issues. The lack of a more versatile kickstand, for example, negates some of the folding screen's benefits.
The kickstand can only prop up the laptop in landscape but not portrait orientation. If it could be set up vertically, a programmer may be able to code more efficiently. Plus, reading long website articles could be easier.
Another thing that Asus might want to build in in the next version is simultaneous charging of the Bluetooth keyboard and the laptop.
Right now, you have to juice them up separately – you certainly don't want to the battery to be depleted on the keyboard and then resort to the on-screen one to type out an e-mail to an important customer.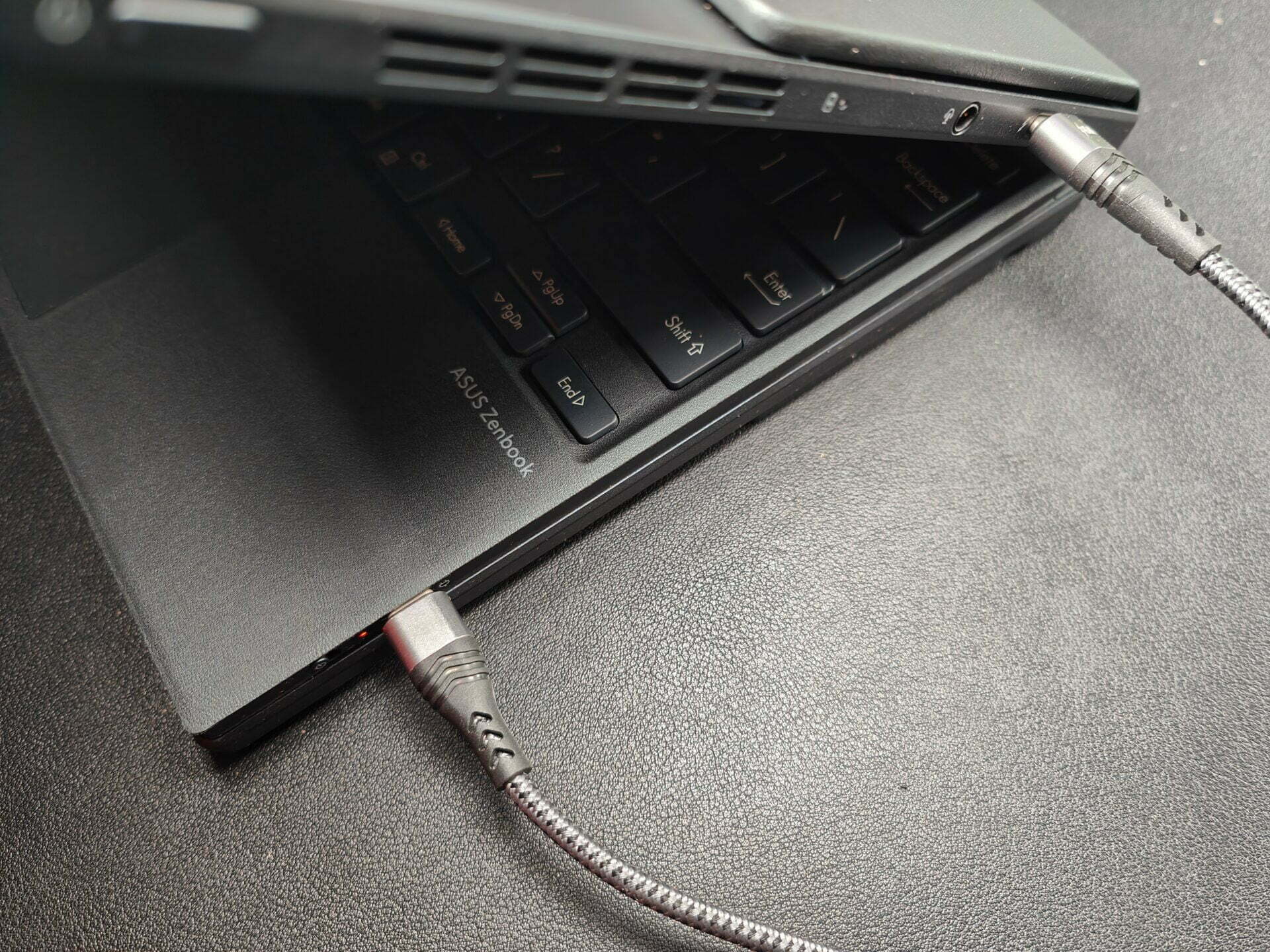 Like many ultraportable laptops today. the new foldable laptop sports only two small USB Type-C ports. So, if you have old USB drives, a dongle for a wireless mouse or need to hook up to an HDMI video source, you might need an adapter.
The good news is the laptop can be charged via both USB-C ports so the wires will not be in the way whichever orientation you put the laptop in.
Despite its interesting design, the Zenbook 17 Fold's biggest issue is its lofty S$5,499 price tag. It is tough to recommend when you have more powerful and sleeker ultraportables going for much less than that.
Of course, the premium Asus asks for grants you bragging rights of having one of the most futuristic and versatile laptops in the market.
More practically, if you can put up with the heft of the device, the large screen is handy on the move as well. It means not having to bring a separate external monitor to peer at those spreadsheets or edit a quick video.