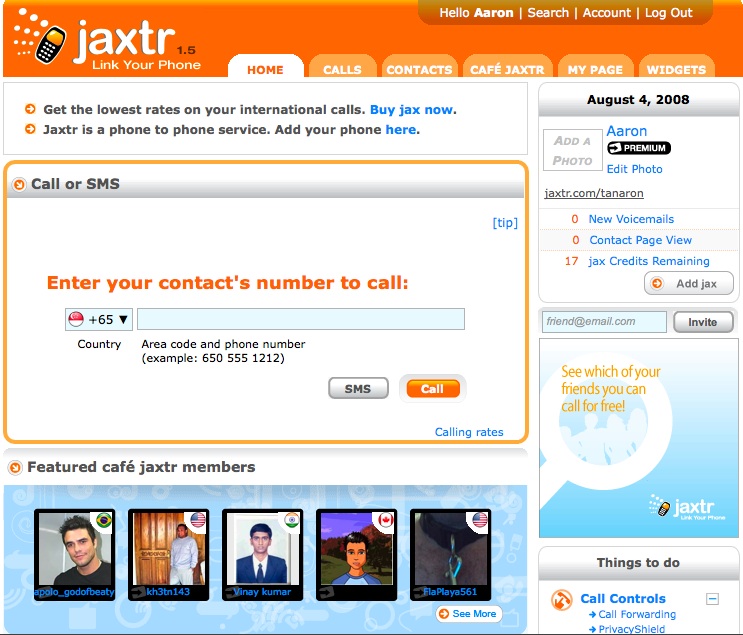 I was recently upgraded to a premium account on Jaxtr, the Voip service that lets you make and receive phone calls and text messages without a PC. The company, which has raised US$10 million in Series B funding, recently gave premium memberships that come with voicemail and additional free SMSes to active users.

The calling rates are comparable to what you get from Skype, but with the convenience of a local number that your overseas friends can use to call you without incurring IDD charges. If you're calling someone overseas, you can request a local number to be assigned or get the service to establish the links by calling both parties.
The local numbers are permanent and are assigned after the first call, which has to be initiated on Jaxtr's website or through a member's widgets embedded in blogs, email signatures and social network sites.
Having been out of Singapore for a year, I've been depending on services such as these to stay in touch with friends and family. Generally, I've been pretty happy with Skype but Jaxtr's PC-less service, at least after a call is first initiated, is a godsend to my folks who aren't exactly comfortable in front of the computer. Jaxtr's quality of service, however, have been inconsistent. There were times when I was unable to connect between the US and Singapore.
Which other Voip services have you been using? Is their quality up to scratch?