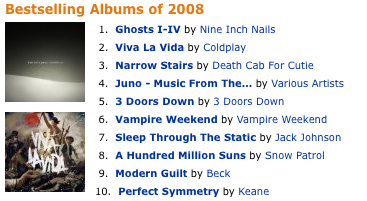 Giving away your content free doesn't mean you can't make a living as a writer, musician or artist.
Just ask Nine Inch Nails. Their Ghosts I-IV album, which was released free under the Creative Commons license, was rated the bestselling Amazon mp3 Album of 2008.
Take a moment to think about the significance: NIN's Ghost I-IV is given away for free, but it sold the most albums online at Amazon.
Taken from this Creative Commons blog posting:
NIN fans could have gone to any file sharing network to download the entire CC-BY-NC-SA album legally. Many did, and thousands will continue to do so. So why would fans bother buying files that were identical to the ones on the file sharing networks? One explanation is the convenience and ease of use of NIN and Amazon's MP3 stores. But another is that fans understood that purchasing MP3s would directly support the music and career of a musician they liked.

The next time someone tries to convince you that releasing music under CC will cannibalize digital sales, remember that Ghosts I-IV broke that rule, and point them here.
Some interesting background:
Ghosts I–IV was released online on March 2, 2008 on the official Nine Inch Nails website, without any prior advertisement or notice.
According to Chicago Tribune, a week after the album's release, the official Nine Inch Nails site reported over 750,000 purchase and download transactions, amassing over US$1.6 million in sales. Pre-orders of the $300 "Ultra-Deluxe Limited Edition" sold out in less than three days of its release, according to Ars Technica.
Said Trent Reznor, NIN's frontman, on the Creative Commons license on Potent Quotables early in March this year: "It's a stance we're taking that we feel is appropriate… with digital technology, and outdated copyright laws, and all the nonsense that's going on these days".
Thanks to The Long Tail for the idea for this story.