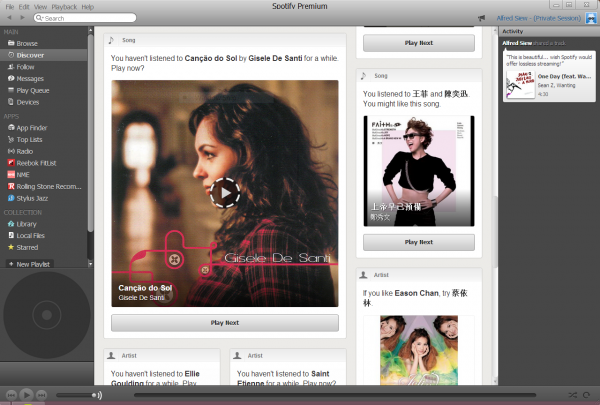 Jay Chou and Maroon 5 turned out to be the most popular singers for Singapore users of Spotify this year, according to data released late last week by the streaming service.
The two "most streamed" artists of the year headed a top 10 list that included familiar names such as Pink, One Republic, Daft Punk and Justin Timberlake. 
Launched in Singapore in April this year, the streaming service is among a number of similar music offerings here, such as Deezer, Rara.com and SingTel's AMPed.
Spotify, however, has 24 million users worldwide, with a wide catalog including both Western and Asian hits. In 2013, its users listened to 4.5 billion hours of music.
While the company did not reveal how many users there were in Singapore, music fans here appear to have certainly unique preferences, according to the somewhat patchy data released.
Users here listened to Maroon 5 more than the rest of the world – 281 per cent more, while Pink's Give Me a Reason, the most streamed song of the year, had more than 365,000 streams since appearing on Spotify.
Daft Punk's Get Lucky, which received the most streams in a single day, on April 20, came in second, and Justin Timberlake's Mirrors was number three on the list of favourite songs.
The largest service of its kind, Spotify serves over 20 million tracks in 32 markets worldwide. It says it expects to bring in half a billion dollars for rights holders in 2013, despite critics such as Radiohead frontman Thom Yorke calling it a "new type of gatekeeper" that doesn't benefit musicians.
Crazy about music? Don't forget to sign up for Techgoondu's Listening Room for Music Lovers event on December 14. Check it out here.