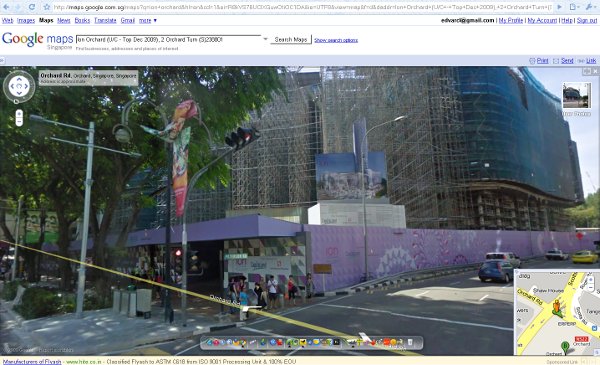 Tiny Singapore finally joins the ranks of countries with Street View today, right on the heels of the roll out in Hawaii and large parts of Spain in November.
This also makes Singapore the third Asian country after Japan and Taiwan (Taipei city only) to be mapped in 3D by the Mountain View firm.

With the implementation of live traffic and its maplets platform on November 19, Google has almost completed its geo-index of the country and will certainly make it harder for local map companies to catch up. But for those that are already harnessing the Google Map API like gothere.sg, it's a boon as they would have access to Google Map features such as how gothere.sg has integrated Google live traffic.
What is yet to be announced is whether data captured by the Google Trike (a tri-wheel bicycle which captures images in areas inaccessible by car) will be ported into Street View Singapore.
It is also interesting to note, with the number of new buildings being constructed from the time the Google car was first spotted in Singapore, the current images of new shopping centres like ION Orchard are still a mess of scaffolding (see picture above). It is unknown how often Google will be updating its images.
Techgoondu will have more information of this launch after lunch (kinda rhymes doesn't it? ;p), so watch this space later.
But in the meantime, check out the Street View SG at ION Orchard for yourself.
*UPDATES:
The current Street View in Singapore does not include data collected by the Trike, it will be launched in a later phase. This would include content updates for completed buildings that were still in construction during the first round of image capture. According to Google, new shopping centres along Orchard road will be updated once every building has been completed along that stretch. It would appear then that Google does not do updates by the building, but it is by the road stretch, a limitation perhaps of its image capture technology.
Users can access Street View through the desktop or a mobile device. For mobile handsets, a specific Google Map app must be installed to facilitate viewing.
Google obviously believes in helping its own. Devices with a built-in compass and running the Android OS are capable of point of view display in different directions in relation to the user's viewing direction. The iPhone 3GS does not i.e. You would have to manually swipe the screen to change your viewing direction.