Brought to you by Keysight Technologies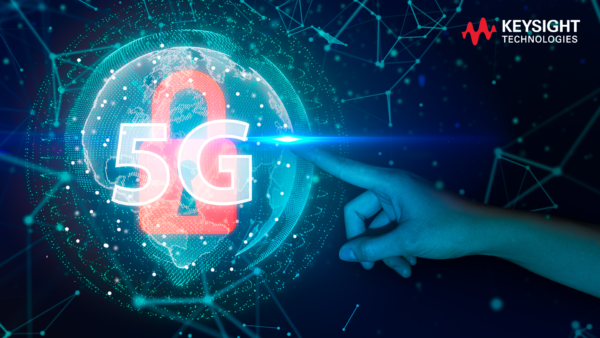 By Lawrence Liu
The development of 5G standards and their commercial rollout appears to be on a fast track. According to The State of 5G market study, nearly half of global businesses are already deploying 5G networks, or plan to deploy them within the next 12 months.
Are we at the tipping point? You may hear some industry experts say the standards are complete, but are they really? 
Will 5G New Radio (NR) products live up to consumer expectations?  If they do not live up to expectations, what is the impact on the industry and on product development? Let's explore where we are in the 5G NR rollout with respect to required tests, challenges, and risks. 
5G required tests
5G products and components including modems, antennas, sub-systems, and fully assembled end-user devices, require testing throughout the ecosystem. All of these devices and base stations will follow a similar testing workflow, of research and development, design validation, conformance, and device-acceptance testing.  
With many rules and regulations to follow in order to bring a mobile wireless communications product to market, testing is performed throughout a product's lifecycle to ensure the end product meets Third Generation Partnership Project (3GPP) specifications and delivers the quality of service mobile operators aim to deliver to their customers.
Conformance tests are mandatory and must be completed to release a device. They involve connecting a device to a wireless test system and performing the following 3GPP tests:
-Radio frequency (RF) transmission and reception performance – minimum level of signal quality  
-Demodulation – data throughput performance 
-Radio resource management (RRM) – initial access, handover, and mobility  
-Signaling – upper layer signaling procedures. 
3GPP Standards identify a minimum level of performance for user equipment (UE) terminals and base stations (gNB). These requirements are defined in the RAN4 and RAN5 technical specifications (TS): RAN4 defines minimum requirements for base stations and UEs. It also specifies test cases and test methods for base station conformance tests; while RAN5 defines the UE conformance test specifications and test methods.  
5G NR products can operate in two frequency ranges – frequency range 1 (FR1: 450MHz to 6GHz) or frequency range 2 (FR2: 24.25 to 52.6GHz), or both FR1 and FR2. Testing in FR1 below 6GHz is firmly established with well-understood test methods and associated uncertainties.  
Given that FR1 below 6GHz operates under the same characteristics, tests in FR1 will be similar to that of LTE with most conformance tests performed with a cable connected to the device, and antenna characteristics, and multiple input multiple output (MIMO) performance completed over the air (OTA).  
FR2 at millimeter-wave (mmWave) frequencies adds a completely new twist on OTA since all measurements in FR2 will be tested OTA.
Conformance tests are performed by third-party test labs to determine if a product is compliant. These tests are expensive, driving most companies to conduct their own pre-conformance tests to ensure their product will successfully pass these tests at independent laboratories.
New features mean new test challenges
5G NR introduces many new features that increase test complexity. Higher frequency operation, wider channel bandwidths, flexible waveform structure, and the increasing number of test cases that need to be validated all impact test design.
User Equipment Test Challenges: 5G NR needs to accommodate many different use scenarios from very high throughput to low packet size, to very low latencies with high reliability. 
To support these, the 5G NR physical layer was defined with high flexibility, changing the way signals are created and operate.
In addition, there are seven different system architecture options and dual connectivity with 4G LTE that must be implemented.
Testing must be performed for the many different use cases. Furthermore, it involves signaling and RF tests, including testing for full end-to-end performance with real-world impairments like excessive path loss, multi-path fading, and delay spread.
Testing these functions requires an OTA test solution that can emulate base station protocols and channel conditions to understand the true performance of UEs. 
Base Station Test Challenges: The active nature of 5G beam steering and beamforming requires validation in an OTA setting. Key aspects such as antenna gain, side lobe, and null depth for the full range of 5G frequencies and bandwidths can have a major impact on system performance. In particular, 3D antenna beam measurements introduce many complexities into the test.
While increased path loss and signal impairments were not an issue at 6 GHz and below, such phenomena are problematic at mmWave frequencies.
Therefore, test solutions for mmWave frequencies not only need to accommodate higher frequencies with wider channel bandwidths, but also address higher path loss at mmWave frequencies.
To that end, a test solution must have adequate signal-to-noise ratio (SNR) to accurately detect and demodulate 5G signals.
Risks and consequences
How well will the 5G NR RAN perform? Will devices connect flawlessly from one base station to another, and provide dual connectivity with 4G LTE? 
Will devices, base stations, and the complete ecosystem deliver on key performance indicators (KPI) such as 20GBps in the downlink (DL) for UHD video streaming?
Will they provide the expected low latency for driverless automobiles? And will they deliver the high reliability required for no-fail applications? These are just a few of the questions keeping design engineers up at night.  
Low quality products can cause higher repair costs, return rates, and result in lower market share and shrinking profits for a company. 
A product introduced with an underperforming operation model, inefficient process or expensive tests, can also decrease production output or lead to low product quality, and have dire consequences on reputation and sales for original equipment manufacturers (OEM) across industries — semiconductors, communications, automotive, or medical. 
Incomplete and evolving targets are putting significant pressure on developers who need to ensure that their designs and tests are flexible enough to handle future requirements.
Designs and test systems will need to scale to new higher frequency bands, potentially with higher channel bandwidths, and implement lower latency and co-existence with unlicensed bands.  
5G tipping point will come with critical applications
Most vendors working on 5G NR are planning to phase-in their 5G capabilities. Initial releases such as dual-connectivity mobile phones rely heavily on 4G for critical applications and use 5G for supplemental high-speed downloads.
The real test for 5G products is further down the road, when critical applications that have higher consequences are introduced.
It will be important for companies developing 5G products to engage with a test partner who is working with leaders across the wireless ecosystem, and has already faced most of the difficult problems involved in verifying compliance and capability.
Lawrence Liu is general manager for Asia Pacific at Keysight Technologies