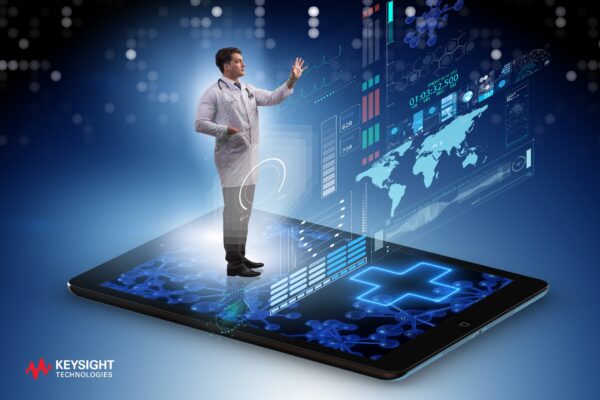 Brought to you by Keysight Technologies
By Ee Huei Sin
The market for medical electronics today represents a comparatively small share of health expenses, hovering around 5 per cent in countries such as the United States.
But the value it brings to the practice of medicine is disproportionately large and growing rapidly.
As a result, the medical electronics industry is expected to see significant growth, propelled by the rising incidence of chronic disease coupled with greater use of medical imaging, monitoring and implantable devices – all combined with increasingly elderly populations.
Beyond that, the health benefits offered by various technologies included in the medical electronics category extend well past the hospital setting.
Satellite centres, free-standing clinics, urgent care providers, doctors' offices, and patients' homes are all becoming outfitted with monitors, analysers, electronic devices, and an assortment of machines to check vital signs and provide specialised care.
Collectively, they not only promise better, more timely, care for patients, they hold the potential for replacing a significant share of the effort currently provided by overworked medical professionals.
This extraordinary growth has led to a series of complex technical issues affecting healthcare network infrastructure.
That complexity reflects the assortment of sources and types of devices, as well as the heterogeneous network infrastructure that connects them to one another and to healthcare personnel.
Particularly in the case of large hospital systems with multiple owned and affiliated units, supporting the mix of physical and virtual networks, systems, data centers and applications, while maintaining visibility into the full network, is a huge challenge.
Even with today's high-performance delivery, analysis and management software applications in place, only limited visibility is available, and performance is often degraded.
Part of the problem, of course, is the exploding volume of network traffic. But another is that many applications are custom built and are incompatible with current monitoring methods.
In one case, a healthcare delivery system, which had expanded through acquisitions and the addition of new affiliates, inherited a complex heterogenous infrastructure that lacked visibility across the network.
System administrators couldn't monitor their data centers down to the server and application tiers. Blind spots associated with the organisation's virtualised or private cloud infrastructure required IT to spend much more time and resources isolating, prioritising and fixing problems.
A common concern affecting medical organisations that are seeing biosensors, wearables and mobile applications entering the healthcare landscape, is that the data had been operating in silos, whether in a nursing station, a back-end server, or within the device itself.
Having interoperable data is critical to improving the future of healthcare and to reducing costs. But, along with the shift from wired to wireless medical devices, there are multiple devices, using different protocols, sharing the same or adjacent radio frequencies.
And when that happens, bizarre communication failures become commonplace. Devices can experience interoperability issues with the infrastructure, resulting in communication errors during life-critical incidents.
However, there isn't a single protocol that covers the considerable operating demands of IoT devices. That can carry both cybersecurity and privacy risks as well as vulnerabilities that healthcare providers may not be aware of or, in many instances, even care about.
Across the industry, regulatory bodies, consider security a top concern. A smart medical device may need to interface with Wi-Fi, Bluetooth, ZigBee, and LTE before it can perform reliably.
So leading companies are committed to staying ahead of the curve by integrating resources to ensure their products work robustly and securely in different scenarios. In addition, they will need to deal with added electromagnetic interference while complying with strict medical regulations.
Those tasks are about to become both easier and, in some respects, more complex as new technologies emerge and are assimilated into the healthcare arsenal.
Among the most significant are 5G wireless networks, capable of handling orders of magnitude more data at very low latencies. At least in theory, as remote electronic monitoring and other IoMT devices continue to proliferate, that capability provides an ideal fit.
Additional medical applications for 5G being explored include remote diagnosis, large file transfers, and innovations in sensor development. Beyond that, new standards for massive machine-type communications, or mMTC, as well as others which apply to ultra-reliable low latency for all Internet of Machine Types, will help IT administrators sort out the babble of signals now crossing healthcare networks.
What can sometimes get lost in addressing the intricacies of healthcare's electronic infrastructure is that the whole point of having an efficient data network isn't saving on expenses, it's saving lives.
The human costs of a failed hospital information system are incalculable. But the industry's ability to succeed in the face of technical complexity isn't something that can be taken on faith; it requires a robust protocol of testing that involves hardware, communication solutions, battery life, security and more.
Each of these needs to be tested separately as well as together to ensure that they can withstand the rigors of the environment in which they will need to operate. Plus, the personnel assigned to their support must be able to monitor the devices and discover any potential failures before they happen.
To achieve that, test equipment and software need to evolve in close collaboration with the industries whose instruments they cover, even including a cloud-based test solution-as-a-service.
That strategy will benefit healthcare as well as the test and measurement industries, both of which can gain greater insight and credibility into human health and the market demands that drive their offerings.
Ee Huei Sin is vice president and general manager for general electronics measurement solutions at Keysight Technologies.