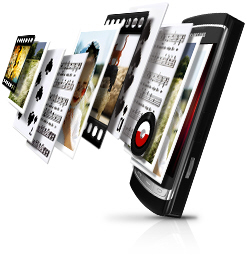 Instead of a book, my bedside reading at the end of every day now is on the small screen on my Google Nexus One phone, checking out friends on Facebook and reading up on football news.
When I awake, it's again on the small screen, reading e-mail from early risers who have been up earlier than me. During the entire day, my phone gobbles up megabytes of data, using up almost 1GB a month, or 100 times what I used before I bought my first smartphone two years ago.
It was with this in mind that I recently asked SingTel's vice-president for consumer products, Ying Lai Chang, what Singapore's biggest telco is doing to cater to this explosion in demand.
As a consumer, I'm grateful for cheaper, flat-rate data rates – the result of intense competition – but how are telcos coping in a business that will only increase in cost, but be increasingly squeezed for margin?
Is it, as many analysts have predicted, heading for an inevitable "correction", where that telcos will eventually be forced to raise prices beyond the S$10-on-top-of-voice rates that Singapore users enjoy?
Alf: From observing your mobile data users, can you say what kind of apps they are spending the most time on the small screen of smartphones?
Lai Chang: We are seeing a growing trend of digital consumers accessing the internet on their mobiles for social networking, local online web surfing and search, watching video, online and casual gaming as well as cloud services like photo sharing.
Alf: How has the usage pattern changed from, say, a year or two ago?
Lai Chang: SingTel's Broadband on Mobile service remains popular with customers and mobile data usage is on the rise among our customers, especially after we introduced our bundled plans, combining talktime with mobile data. Growth in mobile data services continued to be strong with the mobile customer base reaching 505,000, up 22 per cent from a quarter ago. Lifestyle entertainment (music and mobile TV), navigation and messaging services are also gaining popularity.
Alf: What has SingTel done to improve or maintain the same experience when more users sign on at the same time and start consuming more data?
Lai Chang: Based on our regional and local trials, we have gained invaluable experience to plan our network upgrade intelligently, such as introducing higher-speed radio at 42 Mbps, "fiberising" our backhaul and optimising our network.
Alf: What's being done to bring in users who are not using any data plans right now and still pretty much use their phones for voice and SMS?
Lai Chang: SingTel was the first in Singapore to offer a range of affordable integrated consumer plans, which bundles talktime and SMSes for every customers' needs. In addition, we also offer bundled plans, where various lifestyle-related mobile applications such as mobile email and music applications, are bundled with data.
Customers can choose from SingTel's wide range of mobile broadband plans that best suits their needs, depending on their usage profile, starting from a low $5.90/month. SingTel BroadBand on Mobile customers can enjoy a complete peace of mind with new and lower data bill caps, starting from $29.90/month and not worry about bill shock.
Lai Chang will be on a panel of speakers discussing the mobile broadband explosion at the UNWIRED 2010 conference happening on May 27, 2010.