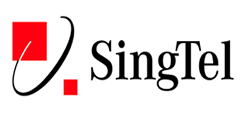 Years after they first heard the phrase "ultra-fast broadband", home owners and businesses here can finally log on to Singapore's new next-gen broadband service next month, when it goes online with promises of faster speeds and cheaper rates.
SingTel today unveiled an aggressive price plan for new FTTH (fibre-to-the-home) services that already looks like forcing new competition in a market that many users have complained is plagued with slow and expensive services, especially when compared to those in South Korea or Hong Kong.
The new services will be available to users whose homes and offices are already wired up with fibre optic cables to Singapore's next-gen broadband network. Homes are still being wired up at the moment.
Starting from S$85.90 a month, SingTel's basic FTTH service for home users will offer download speeds of 150Mbps, upload of 75Mbps, and an international link of 15Mbps.
This appears to be targeted at StarHub's fastest cable modem service – rated at 100Mbps download, 10Mbps upload, and costing S$86.88.
For true speedsters, SingTel's top-end FTTH consumer plans offer download speeds of up to 200Mbps (100Mbps upload, 25Mbps international) and costs from S$95.90, depending on the mioTV bundle you buy from SingTel.
Besides the better download speeds, this is also the first time a Singapore broadband service has listed "international" bandwidth as part of the specs. Previously, international bandwidth has been on a "best effort" basis, thus users here who surf 70 per cent of the time to overseas sites often feel the lag despite signing up for the fastest plans here.
To be sure, these are still early days yet, as the prices are still some way off what consumers elsewhere get. In Hong Kong, the usual benchmark to which Singapore's market is compared, a 1,000Mbps service can be as low as HK$199 (S$34) a month.
But the competition is expected to get hotter, as Singapore marks a major milestone in its broadband market development. From the bad old days of SingaporeOne, where prices were high and services plagued with slow speeds, the country's service providers now have the ability to offer (in future) services as fast as what leading countries such as South Korea and Hong Kong do.
More importantly, for consumers, a new level of competition is set to force older broadband services to be cheaper, as SingTel's new FTTH services now demonstrate.
The market is set for a shakeup. In the coming days, StarHub is expected to announce its suite of services and possibly new prices. Other telcos, such as M1, are also primed to leverage on the "open" national network to offer faster broadband services. What this boils down to is more and better choices.
(UPDATE: SuperInternet and LGA, which offer telephony and data centre services to many SMEs here, have also signed up to sell fibre-based broadband services, so that's a boon to corporate users).
Down the road, the hope is that the new network can level the playing field, so a whole host of new service providers can offer broadband bundles – whether this be with games or pay-TV – customised to users' preferences.
More importantly, when current exclusive pay-TV contracts end in the coming months and years, perhaps users may even get to watch the Barclays Premier League with a service provider of our choosing, as it is streamed over this common fibre optic network that all new ultra-fast broadband services are based on.
UPDATE: Check out the other operators' fibre broadband offerings here.