With four times more budget than the previous season, Refinery Media's hit reality TV show SupermodelMe returned for a second season last week on March 17th, and sees 12 aspiring models vying for the top spot to kick-start their careers in the fashion industry.
This new season by the home-grown production company promises enhanced interaction with audiences through new media technologies, building on the previous season's use of social media.
Multi-platform programming
Similar to last season, each model will blog about their experiences after every episode aired on television. They also have their own Facebook pages to maintain. On top of that, the models will also be giving tips through location-based social network Foursquare.
Refinery Media's executive producer Karen Seah said that each platform adds a unique layer of content to the show which promises to make the show more engaging for viewers.
For instance, StarHub mobile subscribers will get access to "mobisodes" on their mobile phones unavailable elsewhere. On the web, viewers will be able to access "webisodes", which lets viewers take a sneak peek at what is happening back stage.
The "webisodes" also feature Refinery Media's proprietary Hyperspot technology, which embeds clickable areas within web videos that viewers can click on to get more information on what they see. For example, clicking on a model's blouse will bring up information about the blouse and direct them to partner sponsor's sites for purchase information and retail conversion.
While the idea of actually doing something while watching a video might horrify couch potatoes, we think this concept has tremendous potential. In effect, the option to view advertisements are left to the viewers, and they don't have to click on anything if they so choose. With the advent of Internet television, Hyperspot might take off and land on your TV soon.
Following the models' footsteps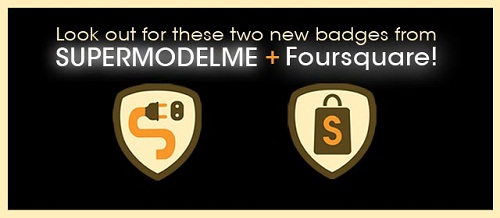 SupermodelMe has also teamed up with location-based social network Foursquare to offer two exclusive virtual badges – SuperConnected and SuperStyle – to viewers who check-in to one of the show's partner locations.  The designs of the two badges were crowdsourced from the show's viewers, who voted for the two best designs.
The exact check-in locations are revealed only in the "webisodes", and viewers who check-in to at least five locations will unlock a badge, which they can then display to participating retailers for discounts in their purchase.
Viewers can explore each location by following the tips left by the models on the show's Foursquare page. In addition, badge holders can enter themselves into weekly lucky draws for prizes ranging from swimwear to bags.
The combination of Hyperspot and Foursquare represents SupermodelMe's attempt to engage viewers with the show's sponsors in a new way. Seah said, "This advertising format is unobtrusive, and allows us to meet our marketing objectives." Seah also revealed that such click-through rates are "extraordinarily high".
SupermodelMe is aired every Thursday, 9:30 PM on KIX StarHub Channel 518.