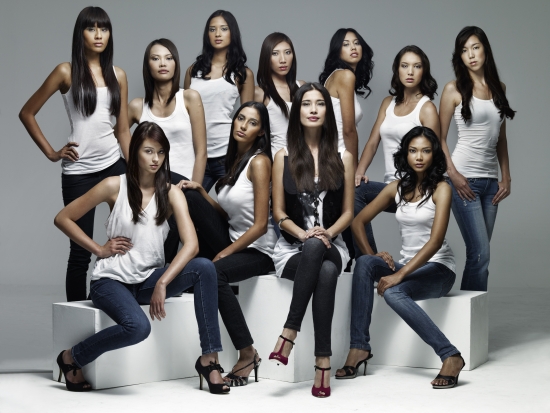 Think of SuperModelMe.tv as another "America's Next Top Model" type of show.
Except that it is set in Asia, the episodes of this reality series are available only online, and it is a homegrown experiment by Singapore-based multimedia production agency Refinery Media and Exploit Technologies (subsidiary of government linked company A*STAR).
Set to debut about a month from now on 16th June 2009, SuperModelme.tv is a twice-weekly, 20-episode online model search that will document the trials of ten aspiring models from Singapore, Malaysia, Korea, Thailand, Philippines and India. They will compete for a grand prize of S$10,000, with first and second runner up getting S$5,000 and S$4,000 respectively.
Hosted by top local Singapore model Charmaine Harn, the show doesn't veer from established reality show formats. The models need to impress the resident judges or get voted out, and some judges name-dropped at the swanky announcement event today include fashion photographer Geoff Ang, fashion designer Frederick Lee and celebrity hairstylist David Gan.
The first question a fellow hack at the event said to me when I asked him for his opinion was: "Is this going to be like another S-factor?"
If you're not familiar with S-factor, a female friend of mine once described it as a "sleazy, trashy skin-flick reality show". I think that description is reasonably apt, but in fairness the show was designed for the FHM male audience, not for ladies.
My thoughts? SuperModelMe.tv doesn't feel it's going to be that to be that low-brow. The show is backed by many brand names, and Refinery Media, who seems to be well connected in the nightlife and entertainment circles, have forged quite a few tie-ups. Hyundai, EZ-Link, Mastercard, JetStar, The Ascott and Tiger are a few examples of companies that are lending their brand presence for the show. StarHub is a partner, and will release exclusive content via StarHub mobile on the show.
The number of supporters and partners for this program — from government agencies like A*STAR to well-known brands — seem quite substantial. The show may not be an expensive production but at least it doesn't feel cheap. As for the content, I'll reserve comments till it airs.
Hyperspot: interactive advertising
The part I found really interesting, however, was in the business model and technology.
The first question on my mind was "how the hell is Refinery Media going to make money?" When they mentioned web advertising I was a little dubious — lots of companies have tried to monetize the web and failed. But then Refinery Media showcased their Hyperspot technology, which I found pretty interesting.
The show's video clips are not only static videos, they're interactive. When you mouse over and click, for example, on a model's dress, a sidebar will pop-up and display information about it. And during the short live demo, they showed how clicking a model's face brings up details of the makeup saloon. Clicking on the background (the video was shot at one of the Ascott hotels) brought up a webpage of the hotel.
This is a pretty powerful form of non-intrusive advertising. My guess is that the technology was supplied by Exploit. The show's content could be total fluff, but a vehicle was needed to test out how the technology works with a real-life business model, and I guess SuperModelMe.tv was the concept they hung it on.
My interest is piqued by the number of brands/partners involved in the show, and the technology/business model. Plus, it's a Singaporean start-up. Worth keeping an eye on to see how this develops.