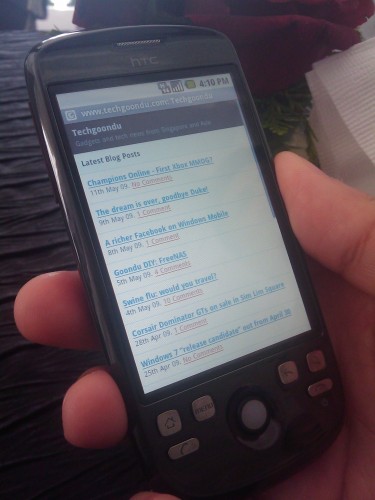 If the first Android to descend on Singapore didn't raise your expectations, the second one coming to stores next month will surely get your attention.
The HTC Magic, a "Qwerty-less" version of the the HTC Dream which started selling here two months ago, is coming to town for a cool S$1,048 (without subscription contract).
Unlike the HTC Dream, which also ran the Google Android OS, the Magic will not be tied to SingTel or any other telco here. This is good news for people tired of all these "exclusive" deals that make it just a bit more troublesome to get their hands on their desired handsets.
I had a chance to gets a quick hands-on with the Magic, as it was launched – for the first time in Asia – at Raffles Hotel today. Thinking it was just another Android, I was pleasantly surprised.For starters, you see a lot more effort put into the phone. The industrial design is much improved over the HTC Dream, which had a finish that reminded you of a raw-cut developer model.
The Magic comes in black and white, and the black one particularly catches the eye with glossy accents and a large 3.2-inch screen. But clincher is how it packs in all the stuff without the bulk. Holding it in my hands, I was surprised how light it was – at all of 116g.
I had expected it to be thicker too. Despite its larger screen, I found it just a little heftier than my Touch Diamond, one of the most compact smartphones around. Compared to more recent rivals like the Touch Diamond 2 and Blackberry Storm, the Magic scores higher in terms of portability.
It's also pretty fast as a touch-screen phone. Together with fellow goondu Boon Kiat, I surfed through webpages and with the exception of our sister site Musicgoondu.com, which had a rolling Twitter feed, webpages were displayed in double quick time.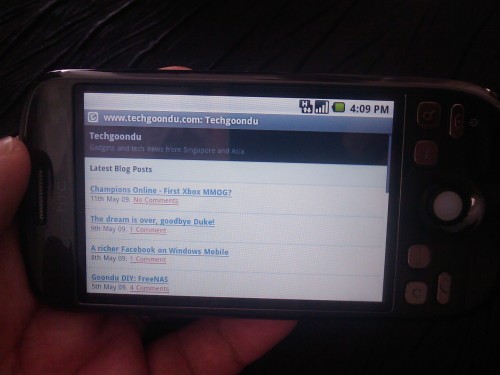 To navigate around, you either slide your fingers on the touch-screen or caress the trackball (Blackberry fans will like this, though it seems to move a little slower than on their RIM devices). Both work fine for me, so I'm happy.
The 528Mhz Qualcomm MSM7200A processor should suffice for most users, along with 512MB of ROM memory and 288MB RAM. What I would've liked though is even faster downloads – the Magic supports the fastest 7.2Mbps 3.5G speeds available commercially now, but all three telcos are expected to raise speeds to 21Mbps soon.
Without knowing that StarHub had tried to ride on the news bandwagon today by announcing their mobile TV app on the Magic, I also got to try out that mobile TV app, since it was placed prominently on the opening screen.
First time round, the network didn't seem keen, haltingly pushing out a video that was greenish on screen. A reboot solved that, and a video of a Football Channel match was smooth without any hint of jerkiness. It was also clear enough to catch up on a match, say, at a boring wedding dinner. Yeah, take that, you 3G-haters who said you'll never see a ball on the small screen!
All in, HTC seems to have hit another winner with the Magic. The main thing I had against the Touch Diamond was its lag. While the Diamond 2 is faster, it comes with more girth and a screen that seems strangely "sunken" to me.
The Magic, on the other hand, seems a more well-rounded, well-balanced phone for both work and play. It might just be my next phone.