I wasn't too sure of the new Sony pico projector when I first took it out of its small box. How can something no bigger than a portable hard disk fire up an image that's the size of a 40-inch TV on a wall?
Well, I'm here to tell you it can. And this projector, called the MP-CL1A, is pretty simple to use as well.
It took me all of five minutes to get an image from my Samsung Galaxy S7 edge shining on a wall in my bedroom. Granted, I had to fiddle around for the manual, but once I knew what was required, the steps were straightforward.
What I had to do after powering on the tiny little projector was to connect it to an image source. You can hook up via HDMI or use Wi-Fi screen mirroring. I chose the latter for my smartphone since this requires no wires.
This technology is called different things on different phones, but many Android devices should be able to hook up to the Sony projector.
On my Samsung phone, it's called Smart View, the same link that lets me send my video screen to the TV at home. This time, I just selected that option to hook up to the MP-CL1A projector. Said okay to the link-up and I was on my way.
In my case, the audio was wirelessly transmitted as well, so there was no need to worry about any additional links. If, however, you want to hook up a separate audio source, the projector supports a Bluetooth link too.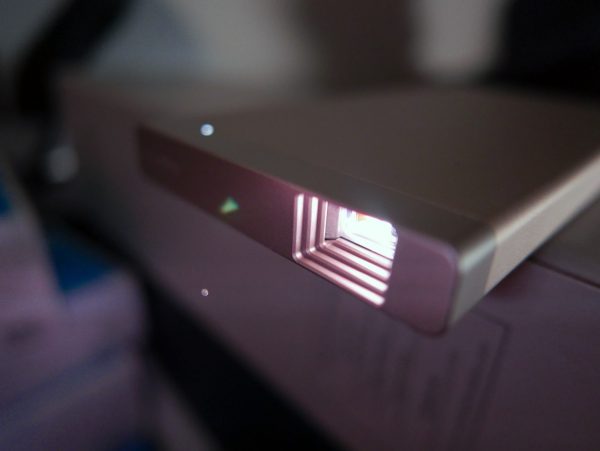 As with other pico projectors, you can't expect this small gadget to perform miracles. The image won't be too clear in a brightly lit room, like when I fired things up for the first time at home.
It would work well if you turned the lights off, or even if you use it outdoors, say, at a campsite where you have a relatively flat surface to send the image onto.
The quality of the image isn't too shabby either. Sony promises a HD resolution of 1,920 x 720, and videos on YouTube that I sent from my phone looked fine, as long as I remembered that everything was piped through handheld devices.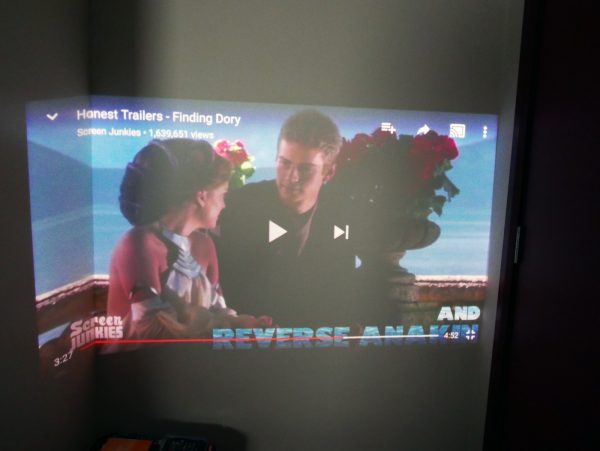 What about throw distance? According to Sony, the MP-CL1A can send a 40-inch image to a wall just 1.15m away. Push it back a little, to 3.45m, and you get a 120-inch screen, it promises.
Just be mindful that the further you go, the weaker the beam. So, if you are in a bright room, you aren't going to see much of an image if you move too far back.
I can imagine the 210g device proving handy in an impromptu conference room. Or one of the many shared workspaces that startups are fond of congregating in.
Projectors like the MP-CL1A would prove handy for a quick meeting that is as fast to set up as it is to wind down. Of course, that's assuming there are no TVs ready to be plugged into on-site.
When I played back YouTube videos with my phone, the distance was fine for a small room. However, I just can't imagine the Sony projector being used for a movie night for a large group of people, unless they are cramped into a small space.
Costing S$549, the MP-CL1A is a nifty little gadget that's also a smart gift to surprise someone with this holiday season. I just find it a luxury item that you may struggle to find a real need for.