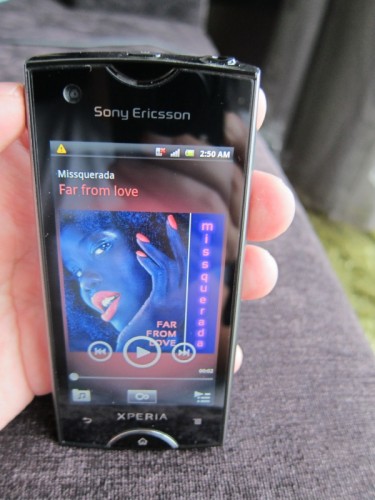 When the Xperia Ray was unveiled at CommunicAsia in June, we wondered why Sony Ericsson had gone the opposite direction where everyone seems to be heading. The new phone had only a 3.3-inch screen when others were more than 4-inches wide, and it only sported a 1GHz processor, when rivals were upping the ante with dual-core chips.
Yet, the mid-range Xperia Ray did catch the eye with some features.
The f2.8-capable, 8-meg camera, for one, reminded everyone of the Cybershot Sony Ericsson phones of old, which made for excellent phone cameras before the smartphone era. Then, there was the really sharp screen – it's small, alright, but it packs lots of detail with that 854 x 480 pixels resolution.
These features, we feel now after testing the phone out for a couple of weeks, are what make the Xperia Ray a good fit for those switching over from a so-called feature phone to a smartphone. 
These consumers are much less likely to want to hold a large phone, because they are used to a candy bar or clamshell phone with a smaller screen. They are also less concerned with specifications as they are with how easy things are during actual operation.
In the shape of the Xperia Ray, they'd have a phone that offers not just a gradual upgrade towards the whole of smartphones, but also one that sports a premium feel.
The edge-to-edge glass that protects the screen, for example, makes the phone appear sleek as any. The light 100-gram frame feels easily pocketable, like phones of old.
But it's not just about design. Fortunately, the Sony Ericsson folks have not simply dumbed down the hardware – the Xperia Ray does come with features that matter to its target group.
The camera, for example, is fast-firing when it comes to focusing and capturing snapshots. It's also capable of great shots with an f2.8 aperture feature, which lets you shoot dramatic pictures with lower depth of field, for example. During my tests, I can say it takes a split second to focus on an object – something that many other phones simply cannot match.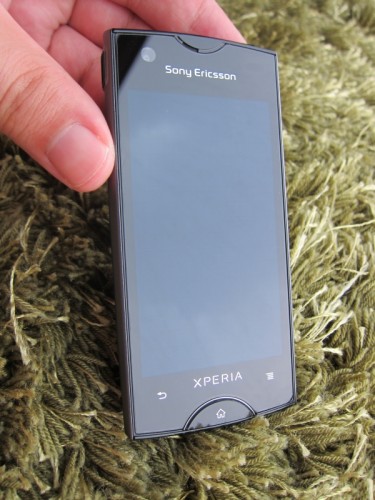 The other feature I like is the screen. Sony Ericsson may say that it features the "Bravia engine", just like it brands phones using Sony's Walkman, Cybershot or Playstation, but look beyond the marketing hype, and you still get a great-looking screen that is surely one of the sharpest at the small 3.3-inch size. Text and icons – and yes, HD videos – look extremely detailed.
The Xperia Ray will also impress first-time smartphone users with its smoothness. The Android 2.3.3 operating system is up to date and fast, allowing me to scroll through menus without lag. Kudos too to Sony Ericsson for having Foursquare, WhatsApp and Evernote bundled in the phone, to let smartphone newbies get hooked up to the most popular apps once they take the Xperia Ray out of the box.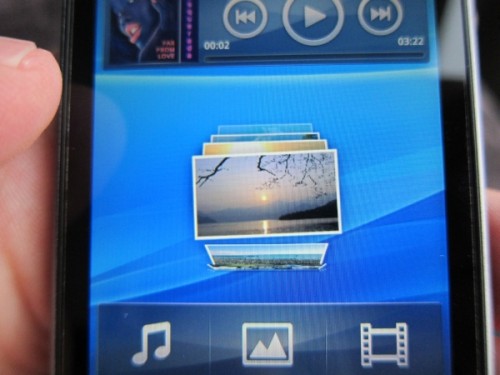 There's, of course, the love-it-or-hate-it Timescape, which shows your Facebook and Twitter updates in one place on the main screen. Seasoned Android users may feel this is unnecessary clutter, but for newbies, again, this is a good thing to have to get started on social media. All in, I feel that the interface is a nice balance between HTC's highly-tweaked Sense interface and a plain vanilla Android look.
One feature I'd hope the Xperia Ray had included is an HDMI port, which would have let you hook up to a TV to show off your pictures or videos. Alternatively, of course, you can take out the microSD card from the phone and insert it – via an adapter – to your TV. I guess the extra step is one trade-off you have to accept for having a phone that is so small and pocketable.
To be honest, I was a little disappointed when I first saw the Xperia Ray at CommunicAsia 2011. I had hoped for a high-end phone that bettered Sony Ericsson's large-screen Xperia Arc.
But now, holding this nifty phone in my hand, it's clear this gizmo is not made for geeks but for new smartphone users looking to switch to something familiar yet new. Going for a modest S$598, when top-end phones cost nearly S$1,000, the Xperia Ray is one attractive option to replace your old feature phone.