Following the wildly successful launch of FireFox 4 on March 22, the folks over at Mozilla have released a mobile iteration of their latest browser for Android and Maemo devices. I've played around with it and concluded that it's easily the best mobile browser in the market today.
How so, you ask? Let's check it out!
Main features
Firefox 4 comes with a boatload of features. In fact, it's everything you expect on your PC Firefox, but shrunk down to fit your mobile screen without losing any of your browsing history, tabs, bookmarks, or saved passwords.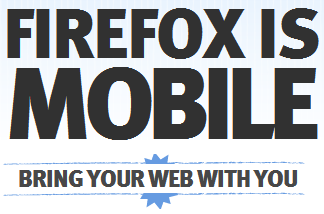 That's all thanks to Firefox Sync, a functionality built right into both the desktop and mobile versions of Firefox 4. Once you install Firefox mobile, you're good to go! Firefox Sync also, uh, syncs your open tabs, so if you need to leave in a hurry, you can continue your browsing session on your phone.
You can even download and install add-ons for Firefox mobile, from the venerable Adblock Plus to one that reflows text when you zoom in to make reading more comfortable. There are already a tonne of add-ons to try out, letting you really customise your browser in whatever way you like.
Tapping the favicon brings down several options, including the website's identity, which should provide greater security. From there, you can also find a particular word or phrase on the page, or save the entire page as PDF for offline reading.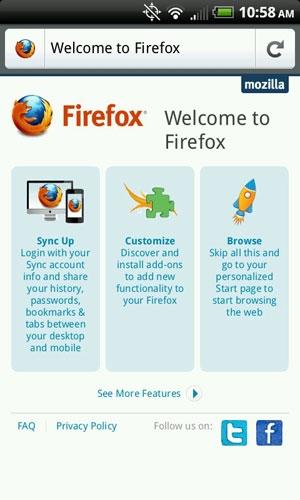 Firefox 4 mobile is also standards-compliant. The browser supports all the important bits of HTML5 such as Location-Aware Browsing (LINK), device orientation, accelerometer, desktop notifications and more, allowing web developers to potentially build more powerful Web apps for mobile phones.
Firefox 4 mobile claims to be 4 times faster than the stock Android browser, but I couldn't reproduce that on my HTC Desire HD. In fact, the stock browser felt noticeably snappier than Firefox. But it's not that slow as to make me dislike it.
Interface
A great deal of thought has been put into Firefox mobile's user interface, and it shows. Swipe all the way to the left to reveal all open tabs and to undo close tabs; swipe all the way to the right to find your back/forward buttons, one-click bookmarking, and other add-ons. It's clean, intuitive, and leaves a lot of space for the web page you're viewing.
You can also dress up your Firefox mobile with personas, which is a nice touch that helps your mobile browser looks less drab.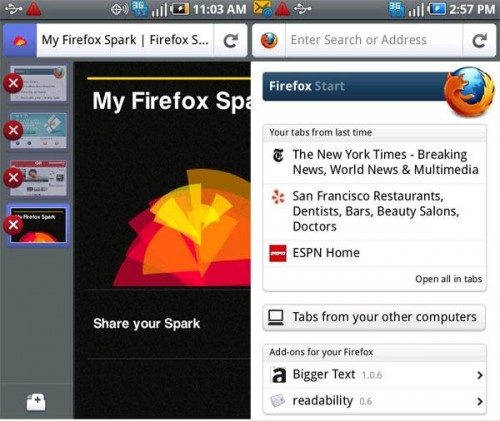 The Awesome Bar also gets ported over, and shows you related results from your history and bookmarks as you type. You can also search Google, Amazon, and other services web through the bar. Once your web page is loaded, the bar slides out of view, leaving you an uncluttered screen for a great browsing experience.
Even the settings page is well-organised, with three tabs for your general preferences, downloads, and add-ons.
Bottomline
There's one conspicuously missing feature: Flash support. After getting used to viewing the full web with the stock Android browser, large missing blocks of web pages which says "Plug-in missing" is rather off-putting.  Hopefully, that will come with future updates.
It's a great browser all in all, and I can definitely see Firefox 4 mobile taking up the mantle of the default browser on my phone. It's also a breath of fresh air in the mobile browser space, which haven't seen much competition compared the heated wars going on in the desktop side.
If you're using an iPhone, you will very likely never see this on your phone, unless Apple has a drastic change of heart regarding apps that "duplicate functionality". Windows Phone 7 users are out of luck too, as Jay Sullivan, VP of Products at Mozilla Corporation, revealed that there are currently no plans to bring it over to Microsoft's platform.
Have you tried Firefox 4 mobile yet? Let us know what you think of it in the comments!