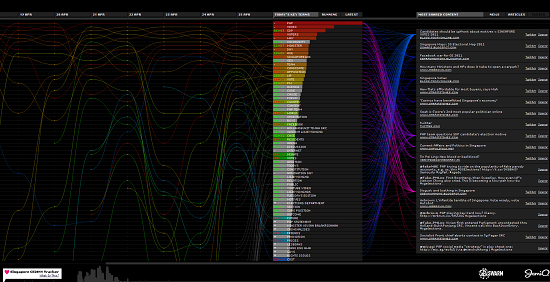 Money, cost and price were the most talked about issues on social media during the Singapore general elections 2011.
So says Singapore social media insights start-up JamiQ and data visualization company Swarm.
They drew this conclusion based off the data collected via their real-time visualization of the GE 2011 twitter streams, which can be found at ge.swarm.is.
A total of 188,768 tweets were collected for the project between the dissolution of the parliament on 19th April 2011 to voting day 7th May 2011 based on the keywords "Singapore elections" and hashtag #sgelections.
Of these, there were 77,913 unique tweets and 110,855 retweets. These were spread across 11,069 unique users.
Charts of top GE 2011 keywords
When JamiQ mines the tweets for the visualization, it chops up all the tweets into noun phrases, like "Cost" and "Tin Pei Ling" and throws away all the tenses and verbs. JamiQ then aggregates them over the entire period so that a trend can be seen.
For example, below is the chart for the top 10 most talked about personalities in GE 2011: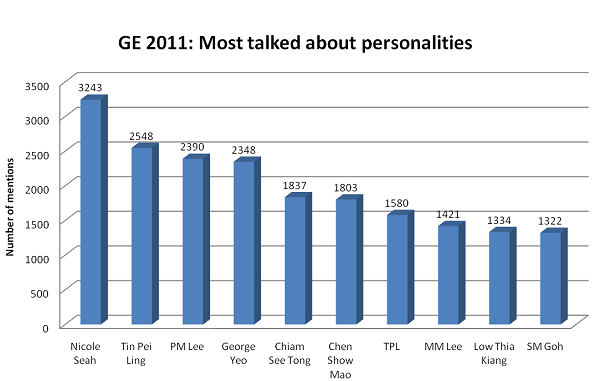 Of course, the list is very, very long — in excess of tens of thousands of terms –and we're only charting the fat head of the long tail.
One other interesting thing to note is that TPL — short form for "Tin Pei Ling" — was also very popular among Singaporean twitter users and this abbreviation was ranked highly at number seven for personalities during the election.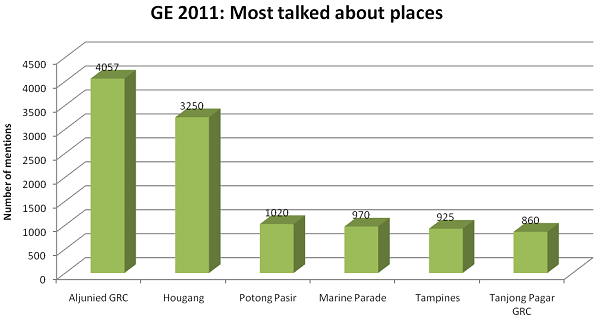 Unsurprisingly, the top mentioned places were Aljunied GRC and Hougang.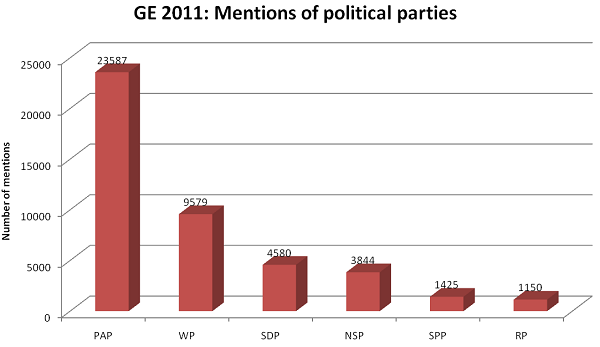 The lion's share of the comments that referenced political parties mentioned the PAP, followed by WP and then the rest of the political parties.
Do note that the system only references exact terms, so abbreviations and misspellings do not appear anywhere near this fat head — they will be found in the long tail.
A human eyeball scan of the top 300 terms in the keyword list allowed us to draw some anecdotal insights into what people are talking about. After some data cleansing and removing common terms like "day", "night" and election", we came up with a rough list of issues.
One top concern seems to be money (55th place, 2929 mentions), cost (75th place, 2234 mentions) and prices (112th place, 1650 mentions).
One other interesting issue was on foreigners (107th place, 1711 mentions). Ranked slightly behind that was HDB flats (238th place, 963 mentions) and housing (239th, 960 mentions).
Top five retweeted articles
According to JamiQ's data, here are the top five retweeted articles during the GE 2011:
Top five retweeted tweets
Here are the top five retweeted tweets during the elections period:
If TPL is disqualified from #SGelections due to her comments on Facebook, she will have a new ans to "What is your biggest regret in life?"
– CalvinTim, 202 RTs
"Polytechnic students are not working, so why should they pay adult fares." Sadasivam Veriyah #sdprally #sgelections TOTALLY AGREE.
– qinatthedisco, 175 RTs
With extra $16000 per month in her pocket now, Tin Pei Ling can upgrade from Kate Spade to Hermes. #GeorgeYeoInTinPeiLingOut #SGElections
– fakeMOE, 161 RTs
Dear Singaporeans, Let's trend #GeorgeYeoInTinPeiLingOut in support our our beloved foreign minister. #SGElections #sgedu
– fakeMOE, 150 RTs
Friend 1: I heard PAP rally got free bus, food & drinks leh.Friend 2: Eat already tabao go Opposition rally lor. #sgelections
– mrbrown, 149 RTs
Hope you did enjoy these stats. Let us know what you think in the comments!
Disclaimer: I do business development for JamiQ.