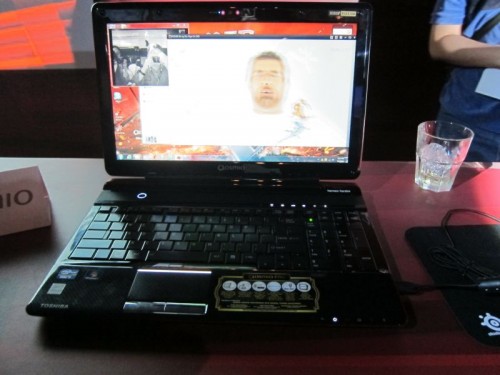 Toshiba today showed off what it called the world's first laptop capable of displaying 3D games and videos without the need for users to wear those dorky glasses.
Current laptops and monitors in the market already let users play stereoscopic 3D games, but they require users to put on glasses, which are uncomfortable if you are staring at the screen for hours.
Okay, the Qosmio F750, part of Toshiba's high-end entertainment notebook range, doesn't change the game totally. The glasses-free 3D part only works with videos it up-converts with its built in software player – including DVDs and Blu-rays – and 3D games that it supports.
But it is interesting in some aspects. Among the cool features is an eye-tracking webcam that is able to detect roughly where the user is and customise the 3D image for him. While the technology has been talked about in the past, kudos go to Toshiba for being brave in being the first to ship a commercial product with it.
How good is this? To be honest, I am not a big fan of 3D. Personally, I'd rather have a clear, sharp image than a 3D one that suffers too often from crosstalk or blur edges. The suspension of disbelief holds better if I see a better 2D image than a 3D one.
And that's how I feel about the Qosmio F750, while I tried it out briefly at today's launch with several other journalists. The eye-tracking technology is pretty accurate, and is able to "follow" the user even in the low light at today's launch at a nightspot in Singapore.
But 3D is a pretty personal choice right now. To me, if the content is originally filmed in 3D – say, Avatar – and projected on a big screen, the whole experience might be more impressive. On the F750's 15.6-inch screen, you'd have to say that you wish for a bigger screen to really make things look more attractive.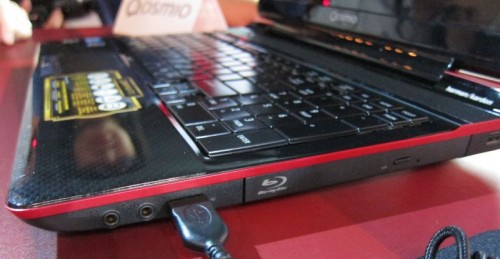 Bear in mind too that other programs – like your Excel, say – will remain in 2D. Toshiba demo'd how it could have 2D and 3D run programs side by side on the same screen, which is a big deal technology-wise for the future, but for users, they'd need more compelling apps to show off this simultaneous 2D/3D offer.
In terms of looks, I won't say the F750 is a stunner. It's rather conservatively styled, with black in most parts. But it's still a great improvement over Qosmios of old, in that it doesn't have all the crazy bling that distracts you from a game. Surprisingly, for a gaming notebook, it is relatively thin. Weighing 2.9kg, it is just about luggable, if you consider other heavyweight gaming machines are often meant to be sat on a table almost permanently.
Under the hood, you can expect the new Qosmio to pack the gear. There's a quad-core i7 chip, 4GB of RAM, Nvidia GeForce 540M graphics, a 640GB hard disk, a Blu-ray drive and Harman Kardon speakers.
The machine is expected to ship in Singapore in August 2011. Local pricing is yet to be confirmed, but in Britain, it is expected to sell for a pretty reasonable £1,299 (S$2,560).