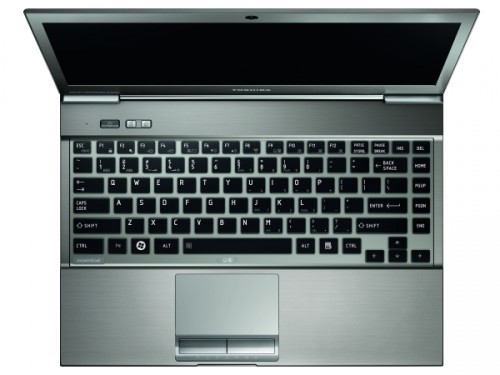 Asus and Acer may have been slightly earlier to the game, but the battle for the slimmest, lightest and most powerful laptop is just getting hotter with new arrivals like Toshiba's new Portege Z830.
Shown to the media in Singapore last week, the latest in the Japanese laptop maker's thin-and-light Portege line is just 15.9mm thin and weighs a feather-light 1.12kg. On that frame are a 13.3-inch screen and 128GB solid state drive, along with either an Intel Core i5 or Core i7 chip.
The Core i5 model will cost S$1,999 while the Core i7 model will go for S$2,599, when the laptop goes on sale at the Sitex computer bazaar on November 24, 2011 in Singapore.
As expected, Toshiba has pulled out nothing when it comes to connectivity. There's USB 3.0, HDMI, Gigabit Ethernet LAN and even a fingerprint sensor for business users. What's also included: the stiff Honeycomb Rib design on the new Portege's magnesium alloy cover that protects against abuse (for those rough users).
The only thing that seems to compare unfavourably, at least on paper, against Asus' highly-regarded Zenbook rival, is that the 13.3-inch screen on the Toshiba machine comes with only 1,366 x 768 resolution instead of the Taiwanese firm's 1,600 x 900 (on high-end models). Even with that sharper screen upgrade, Asus' Core i5 offering costs S$1,498, while its Core i7 option goes for S$1,998 – S$500 to S$600 cheaper.
But take note that these prices are will likely come with free bundles, like RAM or other upgrades, during the Sitex show. They may even drop if the competition is stiff enough.
Either way, there are now lots to choose from – besides the MacBook Air – if you want a full-powered laptop that's also easy to carry around. And that's good news for anyone who likes choice.