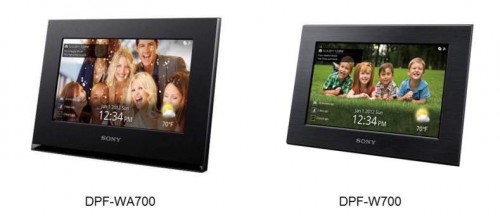 Sony has unveiled two new photo frames in its S-Frame range today, offering for the first time Wi-Fi connectivity in a 7-inch frame.
The DPF-WA700 and DPF-W700, once connected, can automatically retrieve and display photos shared on Facebook. Users can also hook up to an existing email account and view photos through it.
Other features, such as home network connectivity, a 7-inch  resistive touch screen, AccuWeather forecasts, are included in both frames. Both offer 1GB internal memory, which translates to approximately 4,000 photos. Card slots supporting MS Duo, SD, and SDHC memory cards are also available.
Singapore consumers, however, will only be able to get their hands on the WA700 frames, which have additional features such as vTuner Internet radio compatibility, AVCHD video playback as well as music playback capabilities.
Sony's latest frames promises to follow in the footsteps of Sony's other eco-friendly products. These frames use LED backlight technology that Sony claims uses less power, as well as auto on/off timers. The DPF-WA700 will hit Singapore's stores in Jan 2012.