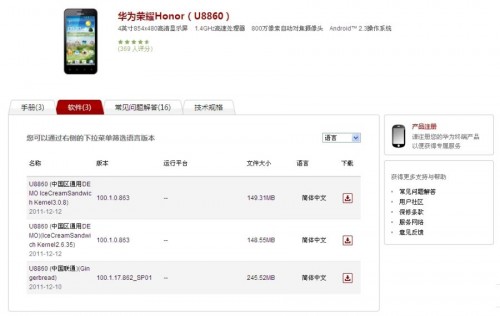 If you still have any doubts as to whether Huawei is in the Android game for the long haul, take a look at the screenshot above.
That's right, shortly after its launch in Singapore, the Chinese manufacturer has beat every other big-name Android manufacturers to the game and released an Ice Cream Sandwich update to its Honor smartphone.
The update can be downloaded via Huawei's website. Click on the second tab, which means "software" and you'll see Ice Cream Sandwich listed. The file is a pretty hefty 150MB download, and there is not one, but two builds for you to play around with.
Fortunately for those not fluent in Chinese, the folks over at theunwired.net confirmed that Huawei's ROM comes with multiple language support, including English.
We're not sure if the update is available OTA, since we don't have a unit at hand yet. If you do have an Honor, give it a spin and let us know how it goes!