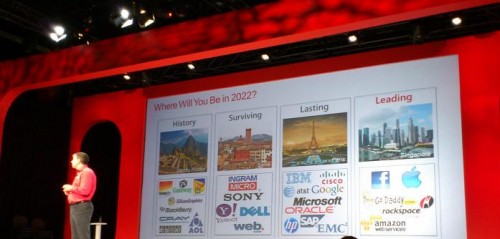 If Parallel's founder Serguei Beloussov gets his way, the technology landscape in 2022 will be dominated by mobile and social technologies, big data and the cloud.
People would interact through social networks in new ways, with 80 percent of Internet transactions taking place on ubiquitous smartphones. Mobile operators such as China Mobile may also drop per minute billing for voice calls, in favour of mobile data plans.
"It's not clear how things will evolve," Serguei said during a Thursday keynote at the Parallels Summit in Orlando. "But mobile is clearly the way forward."
Besides a future that's more mobile and social, Serguei also predicted a world where Internet TV would finally take off, and that social network games such as Farmville would be highly profitable.
Beloussov also expects an explosive growth in personal cloud storage, which is expected to balloon to 130TB per person by 2022.
The cloud, of course, would become pervasive. By 2022, Beloussov said, all software will be sold as cloud subscriptions. Intuit's Quickbooks accounting software, for example, could be entirely hosted online.
"It will also be a matter of time before advanced hosting service providers like GoDaddy start to offer credit cards that could be used to purchase small business infrastructure [on the cloud]," he added.
On the enterprise technology front, Serguei noted that MariaDB, a database server that offers drop-in replacement functionality for MySQL, could eventually eclipse MySQL.
Cloud giant Amazon Web Services would also use five times more virtual containers than virtual machines in its infrastructure.
With more businesses turning to the cloud, 50 per cent of the IT workforce will be employed by web hosting companies and cloud service providers.
The world will also see an increased rate of globalisation in 10 years. Large IT companies are expected to expand into global markets faster than before, creating competition for local businesses.
Serguei likened the state of IT companies in 2022 to the cities of Siena, Paris, Singapore and Machu Picchu, a 15th century Inca site.
In particular, Serguei singled out Singapore as the leading city in 2022 that's associated with companies such as Facebook, Amazon Web Services and Apple that have led others in the social, mobile and cloud computing bandwagons.
Companies like Digital, for example, have been left in the dust like Machu Picchu, while the likes of IBM, Microsoft, Google and Oracle will be "lasting" – like Paris.