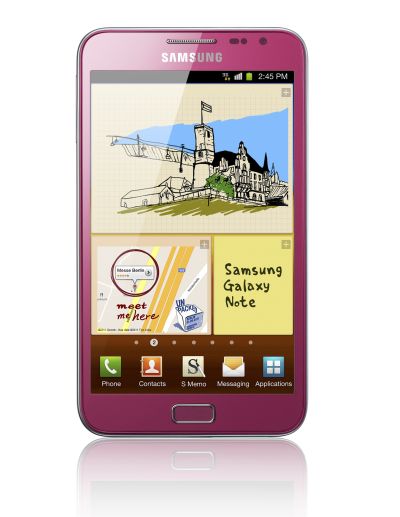 It had to come in pink sooner or later.  Samsung's surprise hit of the season, the Galaxy Note, is arriving in town this Saturday, dressed in pink and following in the footsteps of the smaller Galaxy S II.
The pink Galaxy Note will cost the same – S$948 – as the white and black versions sold in Singapore so far. Adding pink to the mix surely won't hurt sales, as the Korean phone maker readies its upcoming high-end line-up in the coming months for a mid-year launch.
Despite having a rather large 5.3-inch screen for a phone, the Galaxy Note has surprised many sceptics by selling some 5 million units in the first five months. In Singapore, it's a hit with the ladies, thanks to a stylus that lets them sketch anything they like easily on the go.
The "phablet", as it is sometimes called because it looks like a cross between a phone and tablet, sports a fast 1.4GHz dual-core chip, along with an S Pen stylus that lets users draw as if on paper – press harder on the screen and the pressure is reflected in the drawing.
The Galaxy Note also comes with a handy microSD card slot, to supplement the 16GB onboard (read our hands-on here).
What the device doesn't have is the latest in Google's Android OS. It is running Android 2.3 and is upgradeable to Android 4.0 (Ice Cream Sandwich), but Samsung has yet to make that available to Singapore users yet.
That puts it in a slightly unfavourable light for geeks looking for the latest and greatest, and they might turn to the HTC One X. But then again, for folks who like the Galaxy Note for its drawing feature and for ladies after the new pink flavour, the version of the OS probably won't stop them from buying the phone.