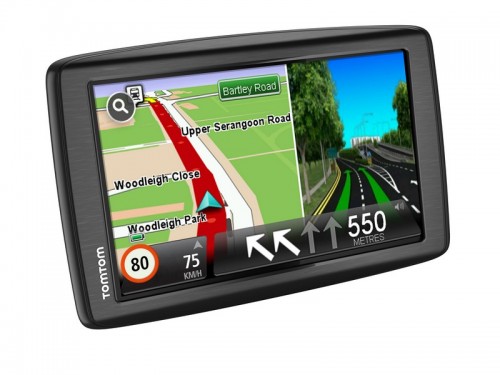 TomTom is giving away unlimited free maps and updates of seven Asian locations when you buy its new Via 620 GPS device between now and end-October 2012.
With a free subscription, users can sync their device regularly and get updated directions for Singapore, Malaysia, Brunei, Thailand, Brunei, Indonesia, Macau and Hong Kong, when they go overseas for a road trip. 
Costing S$299 in Singapore, the Via 620 sports a large 6-inch screen – take that, Samsung Galaxy Note – and has a rather sharp 800 x 480 resolution compared to rival GPS devices. 
TomTom is also touting its Map Share feature, which lets users share changed street names, speed limits and blocked roads, as they come across them while driving. Users can get such information updated daily when they pull their device out of the car and plug it into a PC.
The Via 620 also features the Dutch company's IQ Routes, which advises a driver where the best routes are based on previous experiences shared by millions of users everywhere. This is not a real-time system, but takes the cue from users who record and sync their driving experience from their Tom Tom device to an online depository.
How does the Via 620 work as a GPS device? During a quick hands-on earlier this week, I thought the big screen immediately made a difference. It's just much easier to use and see the route on screen compared to a device with a smaller display.
The brushed metal look also takes it a notch higher than a plain, black frame that you'd expect from most GPS devices. Unfortunately, TomTom has left out cool features like a front camera for recording video or a wireless connection for retrieving live traffic conditions on roads.
The company says the bigger screen will be great for large cars, like SUVs (the beemer above is not mine). They are probably right. If you have a smaller car in Singapore, you might find the 6-inch screen taking up more of your windscreen, while jostling for space with the in-vehicle unit (IU) that collects toll for the government and possibly also a wireless key card to open automated gates at some apartments.
Fortunately, the flexible mounting system means you can also set the GPS unit on the dashboard instead of sticking it on your windscreen, so you can find a more optimal place for it.
I can't really say how accurate the Via 620 is, or if the maps are good because I only had a short trip with it with the rest of the media during the press event. My experience with the older TomTom Go 2050 wasn't too bad though, and I hope the company has improved more than just the screen size in the new Via 620.