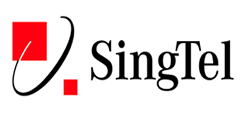 SingTel is being fined S$300,000 for disruptions to its mio Voice home phone service late last year, as the infocomm regulator meted out the latest penalty to a telecom operator here for below-par services.
More than 500 home users in various parts of Singapore had problems making calls on SingTel's service on October 28 and 29 and on November 4 last year, according to the Infocomm Development Authority (IDA).
It said today that the issue was down to hardware that did not have enough capacity to handle the service.
These optical line terminals, or OLTs, at SingTel's telephone exchanges at Tampines and Bukit Panjang were inadequate to offer the phone service and affected the areas around them.
SingTel's mio Voice service relies on Internet technology instead of its traditional analog phone network. It offers users unlimited local calls, similar to voice calls bundled by its rivals as part of a broadband or pay-TV package.
The IDA has been handing out heavy fines to telcos in the past year. It is armed with a revamped Service Resiliency Code that enables it to give out penalties of up to S$1 million or 10 per cent of a telco's annual turnover.
In May, SingTel was told to pay S$400,000 for widespread problems with its 3G mobile services. Last year, M1 also given a fine of S$300,000 for various disruptions to its cellphone network.
On the latest mio Voice disruption, the infocomm regulator had strong words for the offender.
"As the cause of the service disruptions was a hardware limitation in SingTel's equipment, IDA was not satisfied that SingTel had actively monitored and taken adequate steps to ensure sufficient hardware capacity was provided," the IDA explained in a statement to the media.
It hinted that the fine could have been heavier had the problem been more widespread. "In its decision, IDA had also taken into account the fact that the impact to end users was localised and affected an aggregate of more than 500 end users."
UPDATE: Separately, the media regulator has also fined SingNet, a subsidiary of SingTel, S$80,000 for outages to its mio TV service that were caused by the same equipment problems.